Scuf Revealed Their Refresh Of The NBA 2K League Collection
Scuf released new images and prices this week for a new line of gaming controllers created for their NBA 2K League Collection. If you're not familiar with this line, these controllers are specifically designed for every esports team tied to a real NBA team as part of the league. As you can see examples here from the Venom for the Charlotte Hornets, the Jazz Gaming for the Utah Jazz, and the King's Guard for the Sacramento Kings. This week they're launching the NBA 2K League Collection on Scuf Impact and Scuf Infinity controllers for 4PS Pro, PlayStation 4, and PC. Which will include the addition of two new teams to the mix as you see the Venom below, as well as the Gen.G Tigers of Shanghai. Here's a little more info on the controllers.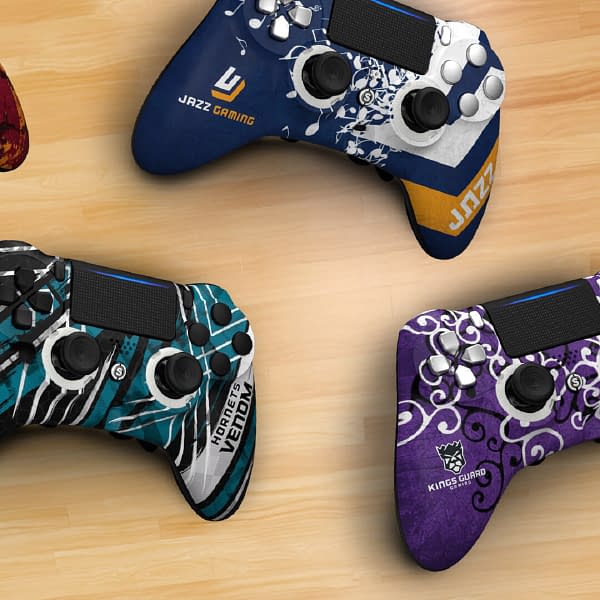 With this collection, you can get your hands on the same controllers many of the top NBA 2K League players rely on in competition. Take advantage of the same performance edge the pros get, including the configurable paddle control system, which allows you to use more of your hands for faster passes, more steals, and better shots. With over 24 unique NBA 2K League designs available, fans can rep their hometown favorite, the League itself, or another team while gaming themselves.

We're continuing to build on our two-year relationship with the NBA 2K League as its Official Gaming Controller, customizing SCUFs to each team's colors and logos, and giving fans access to the same NBA 2K League controllers many of their favorite players are using every match.
You can currently purchase them from their store, with prices ranging on them from $180-190. If you're really into the NBA 2K League, or just want to show off some hometown love on your own controller at home, this is a pretty cool way to go for hardcore NBA fans.