Sea of Thieves is Adding Private Crews in Next Update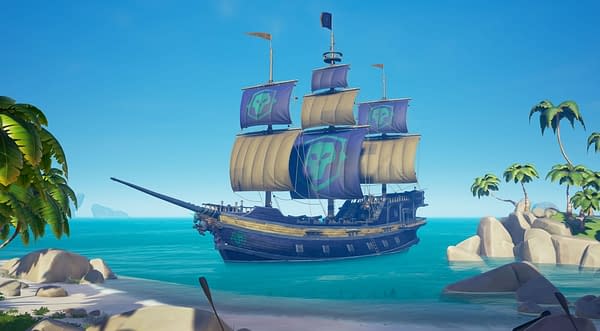 Sea of Thieves is getting an update next week which brings with it the option for Private Crews, which many players have been eagerly awaiting.
Sea of Thieves' Executive Producer Joe Neate detailed the upcoming patch, and teased coming details on The Hungering Deep, in the May 10 Developer Update video below. However the essentials are pretty basic- private crews will allow players to restrict access to their ships, so random player's can't join up.
The option was supposed to be added last week, but the feature was delayed so the team could resolve an issue for PC players.
In addition, enemy gametags will be invisible while they are underwater, to allow for sneak attacks from below, and players will also be able to exchange bananas, cannonballs, and other similar items between crew members.
Neate confirmed that the studio will reveal a trailer and announce the release date for The Hungering Deep update next week. The release of The Hungering Deep will bel the first of several larger weekly content updates that will be coming now that we've hit the game's live update cycle.
In other recent news, Rare has teased the idea that the massive upcoming update, The Hungering Deep, will introduce a new threat to the pirates of Sea of Thieves.
You can check out the newest developer update below.