Secretlab Partners With T1 For A Special Edition Gaming Chair
Secretlab has formed a new partnership, this time with League Of Legends esports team T1 to release their own special edition gaming chair. Being created in both the Titan and Omega series chairs, they sport the team logo with their colors. The chairs were designed to celebrate the team's success over the years, as they will be used by the team's professional players to practice and compete in. Here's a couple quotes from the announcement.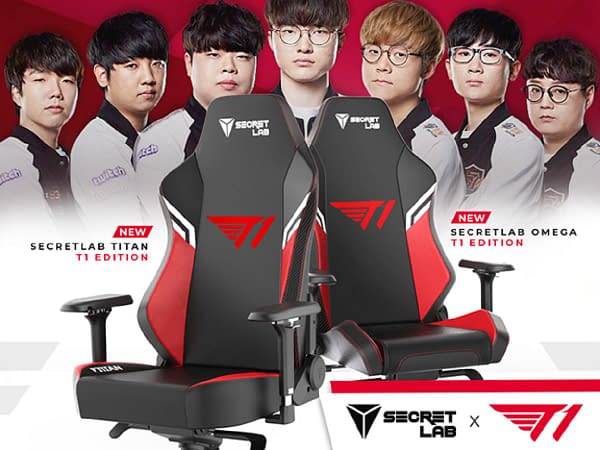 Ian Alexander Ang, CEO and co-founder of Secretlab, said: "T1's unparalleled success stems from their desire and hunger to be the best. Their unyielding determination to succeed has seen them turn around a difficult year and clinch the LCK 2019 Summer Split, and now playing for a world-record 4th Worlds title. As an organization and down to each individual player, T1 only demands for the best. That's why they approached us to provide their players with our awardwinning gaming seats to enable them to continue and further the T1 legacy. We're proud to keep their top-level players seated in utmost comfort and game in peak performance during trainings and throughout their games at Worlds."

"Secretlab is the perfect gaming chair partner for T1," said Joe Marsh, CEO of T1. "The quality of their product is unparalleled and provides the best experience for our teams. We want to ensure our players are comfortable and equipped with the proper tools for optimal performance at all times, which is why we train with Secretlab gaming chairs and chose them for this year's Mid-Season Invitational and Worlds."