An interesting item has appeared on Square Enix's shop as the company will be selling a special Dragon Quest Nintendo Switch slime controller. As you can see from the designs here, you get a special treasure chest Switch holder with the slime creature on top. When you turn it over, the controls are on the other side. It looks like a Pro Controller as if it were wrapped around a sphere, so the look to it is unique. We're kinda wondering ourselves how well you can grip it considering the shape. No word yet as to whether or not it will appear in western markets down the road, but considering how popular Dragon Quest is in Japan and how niche of an item this is, we're probably not going to see it. If you really want to buy it, it's about $100 USD. Here's the description of it from Square themselves.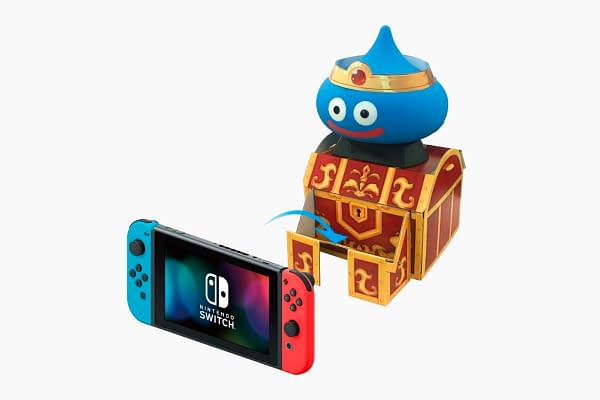 You can operate the Nintendo Switch via Bluetooth wireless communication. The built-in battery eliminates the need for batteries. You can charge this product by connecting the USB cable (USB Type-C) included with this product to the Nintendo Switch Dock. You can also use a genuine Nintendo Switch AC adapter and USB cable (USB Type-C). Please connect an AC adapter to Nintendo Switch Dock when charging. It can also be used for games that use an accelerometer / gyro sensor, such as tilting the controller. It has a continuous fire / continuous fire hold function, and it is an effective function in the specific scene of "Dragon Quest XI In search of the time to go away S". The surface of the controller is rubber-coated for better feel and better grip. A dedicated pedestal for display and a paper stand for Nintendo Switch are included. The motif is a treasure box that appears in the Dragon Quest series, and when the controller is not used, it is a design that can be enjoyed as an interior.
Enjoyed this article? Share it!