'Star Wars: Legion' Empire Players About to Get Big Lizard Energy
Last month, Fantasy Flight Games announced the Tauntaun Riders Unit Expansion, and a couple of friends and I were geeking out about how cool the upcoming units for Star Wars: Legion looked.
Then my eyes rolled back into my head, and I uttered pure prophecy from the Force:
"I bet Dewbacks are next".
The Force is strong with me. Or, I'm just really lucky at making wild guesses. Either way, DEWBACKS ARE COMING to Star Wars: Legion!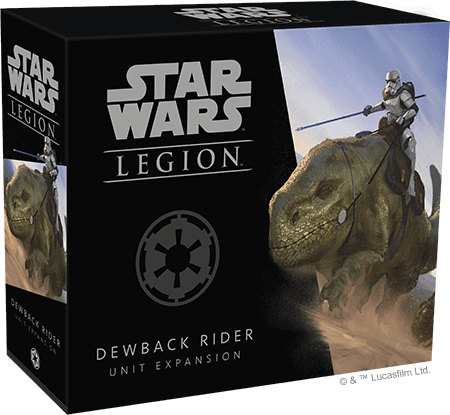 The Galactic Empire rules over countless worlds, each boasting its own unique flora, fauna, and terrain. Rather than adapt their military vehicles to the conditions of every individual world, Imperial commanders commonly prefer to use local creatures to support their operations. Now, one of the most iconic creatures from the Star Wars saga is on its way to bolster your Imperial forces.
Sure, Dewbacks are native to Tattooine, but that doesn't mean you're stuck fielding them on desert planets. They have nasty, vicious claws that can be used in combat, and the Stormtrooper has some cool options available, too!
Able to survive extreme temperatures, these mighty reptilian creatures are the perfect complement to Imperial troopers during their patrols. Within this expansion, you'll find an unpainted, beautifully detailed Dewback miniature featuring a Sandtrooper rider with four distinct customization options: your Dewback Rider can be built carrying the standard shock prod, or you can equip them with three different weapons.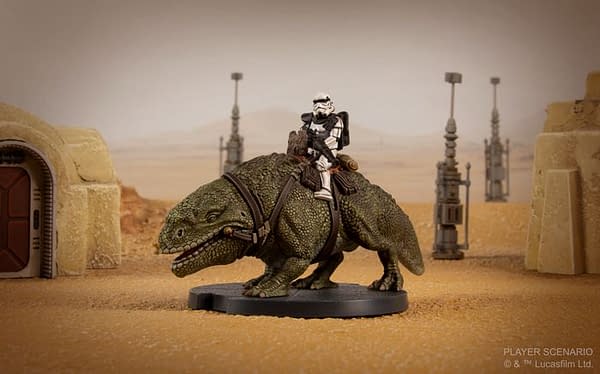 The Dewback Rider Expansion Unit will also come with six different expansion cards, allowing players to customize this unit's impact in battle!
Equipping your Sandtrooper with a T-21 blaster rifle or an RT-97C blaster rifle adds a new dimension to the unit, making them deadly from a distance. Alternatively, a CR-24 Flame Rifle enhances the Dewback Rider at close range, helping them uproot any subversive elements tucked behind cover.
The Dewback Rider Expansion Unit will be available during the second quarter of 2019, check with your local game store for pre-order information!