Some cool news for arcade folks as the SUPERHOT Team as they will be bringing the experience to VR Arcades and LBE with SUPERHOT VR: Arcade Edition. The team spent months of development creating a game that could be loaded and played into what they call "public commercial locations", allowing people to choose the level they want and move into any difficulty they choose right out the gate in 11 different languages. The company hasn't put an official release date on it yet, but all accounts of it seem to point it coming out this year. You can read more about it here, but we also have the main features and a quote from the company below, plus the trailer showing it off!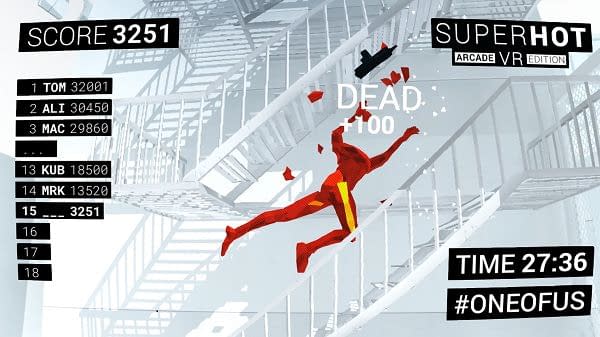 "It was clear there was a large appetite for a version of SUPERHOT VR that played amazingly well for both players and operators in a public setting" said Alastair Hebson, Head of Special Projects, "it was an obvious decision for us to greenlight a project and hire a team solely focused on making it happen. It's exciting for us to be in the LBE space and part of this growing industry sector.

Features

Points mean prizes – a superb, all new scoring feature that increases fun, competition and replayability
Leaderboards – local leaderboards with a great new Hall of Fame experience for players. Operators can easily manage leaderboards to better support special events and parties.
New modes – operators can select between new and optional time limited modes with 5, 15, and 30-minute session lengths.
Flexibility – the new Administrator Panel provides convenient and complete control over how exactly SUPERHOT VR: Arcade Edition is deployed. Easily select default modes, options and settings to ensure the game suits your situation perfectly.
Control options – select between the Classic and Updated HTC Vive control schemes.
Attract Mode – an optional setting to trigger an entertaining video that'll help draw attention to a VR station which nobody has interacted with in a while.
Language support – support for 11 languages: English, Korean, Simplified Chinese, Traditional Chinese, French, Italian, German, Spanish, Japanese, Polish and Russian
Enjoyed this article? Share it!