The Swords Of Ditto Gets a Gorgeous New Trailer Showing Off Roguelike Play
Developer onebitbeyond has given audiences a look at its new roguelike, the fantastic looking The Swords of Ditto.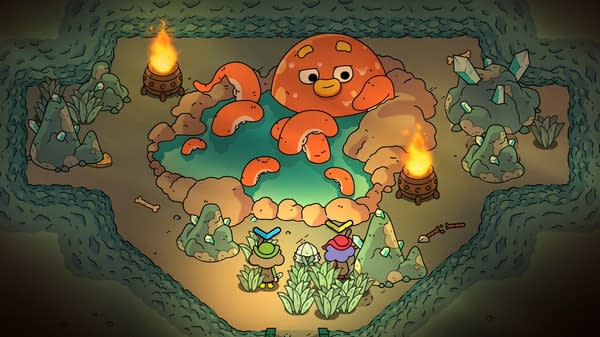 Every once in a while, an indie game comes along that really captures your eye. As developers play with more art styles and design, we are beginning to get some truly stunning looking games. Cuphead from last year springs instantly to mind as an example. I've just gotten that same feeling with this newly announced The Swords of Ditto.
Coming from developer onebitbeyond, the game is a roguelike, mixing ideas from The Legend of Zelda: Majora's Mask and Rogue Legacy into a very interesting mix. Essentially, the game tasks you with taking on the evil Mormo, and you will go through cyclical, generated adventures to figure out how to do just that. You will get a newly created adventurer everytime you start over, but one constant will persist and that is your sword which will grow and get perks as you continue on. It's a neat idea, brought home by the game's wonderful looking art style. Certainly taking cues from the likes of Adventure Time and other modern Cartoon Network style shows, it really looks like something you'd see on Saturday morning TV. You can see it in action in this trailer here:
It's always nice to find a new indie game to be excited about and it's pretty shocking how many of those end up being published by Devolver Digital. Those lot have such a keen eye for a very specific type of game. They are always stylish and this looks to be no different. It's not far either. The game lands April 24, in 2018 on PlayStation 4 and PC.