"Teenage Mutant Ninja Turtles: Turtles In Time" Soundtrack Goes Vinyl
Some cool news for retro gaming fans as the soundtrack for Teenage Mutant Ninja Turtles: Turtles In Time will be coming to vinyl this year. Nickelodeon and Konami have partnered with iam8bit to release the soundtrack in a couple of different forms, with pre-orders going live on Thursday morning. The two versions you can snag are the Pizzasplosive Picture Disc (Limited Edition of 1,000) for $35, and the Big Apple Green Vinyl (Open Edition) for $30. Both come in awesome vinyl designs (the Limited Edition is a pizza), with cool album art from Aled Lewis and remastered audio. This is as good as it will get to own the original soundtrack and is probably going to be a must-own for Teenage Mutant Ninja Turtles fans. The albums will be sent out sometime in Q4 of 2019.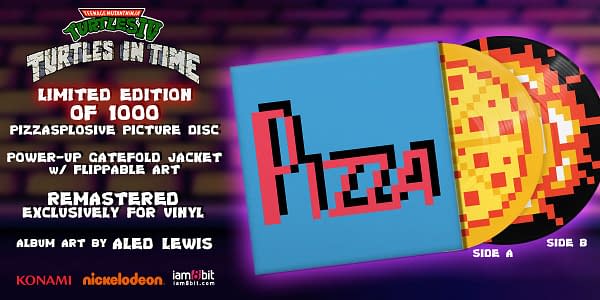 The plot of Turtles in Time is the stuff of sci-fi lunacy – a supercollage cast of baddies battling through the ages: Krang donning his trademark exosuit stealing the statue of liberty, metal-mouthed Shredder hijacking the TV airwaves, prehistoric dinos, grimey pirates, neon-future robots, mutated sewer nasties, etc.. Enter the mean, green, fighting machines, on a hard rock collision course to reset the space-time continuum back to a peaceful, cheesy-grease-soaked state. This is one of the greatest SNES soundtracks of all time, expertly mastered for the first time ever on vinyl, cozied away in a choose-your-own-adventure pizza (or bomb) box. Also, we included some bonus soundbites, and even our favorite track from the arcade release – cowabunga!