The Arc World Tour 2022 Finals Are Taking Place Today
The Arc World Tour 2022 Finals are happening today, as we're getting two new champions for DNF Duel and Guilty Gear -Strive-.
---
Today, Arc System Works will be holding the Arc World Tour 2022 Finals live in Burbank, California, as they are looking to crown a pair of new champions. The event will feature 16 best players from around the world in two of the company's fighting games, as we'll see people compete in Guilty Gear -Strive- and DNF Duel. Some of the major competitors for this event include EVO 2022 winner Razer | MISHO (Guilty Gear -Strive-), CEOtaku 2022 winners LostSoul (DNF Duel) and ONi│NBNHMR (Guilty Gear -Strive-), and several others at the top of their game. Everyone involved in the two tournaments today will be battling it out in a series of matches as they determine placement in head-to-head competition, ending in a proper bracketed tourney to see who will be crowned the winner for their respective titles. Both games have a total prize pool of $200k on the line. We got more details of the event below as you can catch the entire tournament on the Arc System Works U Twitch channel.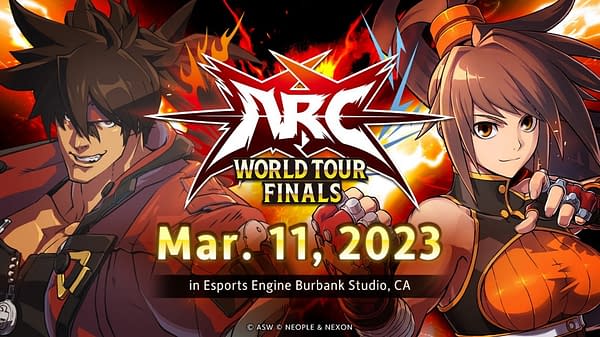 Arc World Tour 2022 Finals Schedule
Both game finals will take place on Saturday, March 11, 2023:
DNF Duel: 12 p.m. PT
Guilty Gear -Strive-: 4:30 p.m. PT
Note: Tournament times may vary due to unforeseen circumstances.
Players include winners from each previous tournament:
VSFighting 2022 Winner: GO1 (Japan)
REV Major 2022 Winner: YuSeongCha (Korea)
CEOtaku 2022 / The MIXUP 2022 Winner: MysticSmash (UK)
CEOtaku 2022 Finalist: LostSoul (US)
The MIXUP 2022 Finalist: K-TOP (Greece)
Fighters Spirit 2022 Winner: Kikyochan (Japan)
ARCREVO Japan 2022 Winner: NANPON (Japan)
Frosty Faustings 2023 Winner: Kubo (Japan)
Prize Pool
A total of $200,000 in prize money is up for grabs at the finals, with the first-place winner taking home the lion's share of $50,000. The runner ups will be awarded a portion of the remaining prize pool.
First place: $50,000
Second place: $20,000
Third place: $10,000
Fourth place: $6,000
Tie for fifth place: $4,000
Tie for seventh place: $3,000