The Library Of Babel Confirmed For Early April Release
Neon Doctrine has confirmed they will be releasing The Library Of Babel for PC via Steam the first week of April.
---
Neon Doctrine and indie developer Tanuki Game Studio have announced that their next game, The Library Of Babel, is set for a PC release next month. In case you haven't seen this one yet, the game is a stealth platformer in which you'll play an explorer making their way through a futuristic jungle of nature and machine, trying to discover the secrets behind the titular library. Including trying to learn more about its creators and how it came to be in the first place. You can check out more about the game below, along with the latest trailer, as it's slated to be released on Steam on April 6th.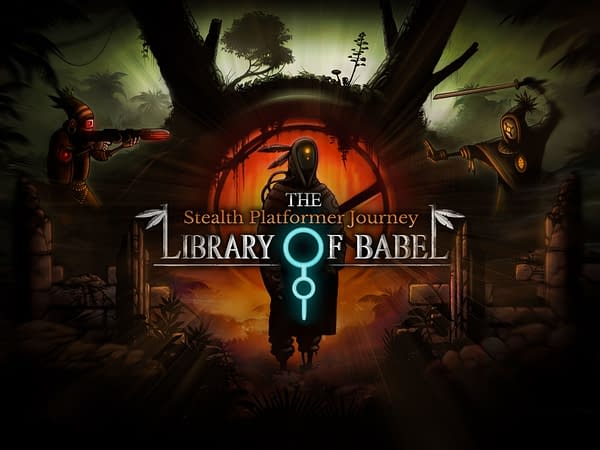 "Ludovik has been sent to Mesopotamia to investigate a murder case. As he arrives at the Colony's data mining outpost, a state of emergency is declared, severely hindering his progress. With the help of Lei, his contact within the Colony, Ludovik is able to slowly piece together the investigation and follow the trail of the murderer through the neighboring areas, meeting peculiar characters on his journey. You will have to get to know the jungle's inhabitants and explore its most dangerous recesses to resolve the obscure mystery that surrounds the sudden lockdown of the Library. In this vast and futuristic world inhabited by strange creatures and deadly enemies, you will have to use a mixture of stealth and wit to infiltrate the most guarded areas."
Immersive 2D Babylon: An overgrown yet futuristic world with beautifully hand-drawn 2D environments.
Classic Systems: Dialogue and Inventory management systems reminiscent of the Graphic Adventure games of the '90s.
Dangerous Environment: Deadly obstacles and even deadlier enemies to avoid, as Ludovik prefers agility and stealth over violence.
Stealth Is King: Ludovik must maneuver around the terrain as quietly as possible, whether that means climbing to new heights, or silently taking down enemies.