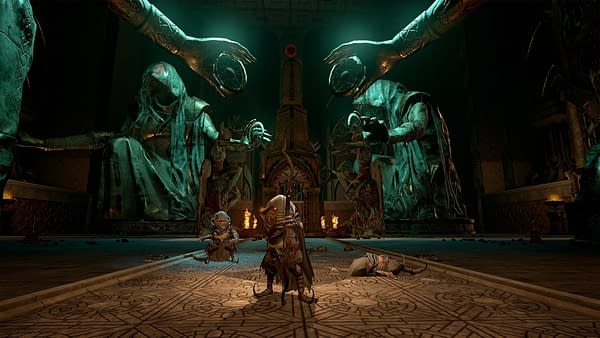 inXile Entertainment released The Mage's Tale, a VR action RPG on Oculus Rift and Touch today. To celebrate the game's launch, we also got a spectacular looking launch trailer. The game is set between the events of The Bard's Tale III: Thief of Fate and the upcoming The Bard's Tale IV, and buried deep within the dungeons below Skara Brae. The Mage's Tale's 10+ hour game ($39.99) offers players a unique chance to revisit and literally step inside the world of The Bard's Tale.  As an apprentice to the kidnapped Mage Alguin, players must learn to craft hundreds of magical spells, explore dangerous dungeons, solve ever-increasingly difficult puzzles, and fight hordes monstrous creatures.
And if you want an incredibly bombastic introduction to the game world, I give you the official game synopsis:
Welcome, oh apprentice of the mystic arts! The corrupt wizard Gaufroi has kidnapped your master, Mage Alguin, and only you have any hope of saving him. To win the day, you will need to explore ten deadly dungeons – including the maze-like sewers of Skara Brae and the horrific living tombs of the bloodthirsty Charn – decipher mind-bending puzzles, avoid terrifying traps, and vanquish hordes of vicious monsters.

But worry not! You wield raw elemental power in the palm of your hand, allowing you to sling gouts of flame, javelins of ice, arcs of lightning, and swirling tempests. Finish off any fiend that stands in your way – from the snarkiest goblin to the burliest giant! As you delve deeper into the depths, you will discover and master forgotten secrets, ancient lore, and powerful spell reagents with which you can craft increasingly exotic spells to defeat even greater foes. You may be an apprentice now, but to save your master, this must become your Mage's Tale.
The Mage's Tale is out now on Oculus Rift and Touch. The launch trailer is below.
Enjoyed this article? Share it!