A little bit of a short notice from Bandai Namco, but the company has announced the Tekken World Tour 2018 global finals will happen in Amsterdam. The company released details today about the tournament, taking place from December 1st-2nd at the Theater Amsterdam in the Netherlands, along with ticket costs for admission to the event. The company also announced that several Tekken esports pros were already confirmed for participation, including Knee, Saint, Anakin, HighLow, JDCR, Tissuemon, and Qudans. Here are some added details and a quote from this morning's press release.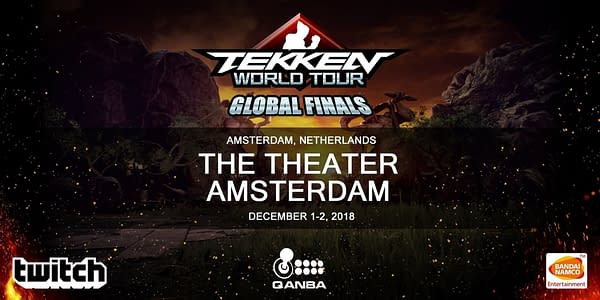 With prize money on-the-line, the stakes for ultimate victory at the Tekken World Tour 2018 Finals will be high. Players wishing to participate, but who have not qualified through placement tournaments during the regular TWT season, will have the opportunity to compete in a Last Chance Qualifier (LCQ) event to be held on December 1st at The Theater Amsterdam, this year's venue for the Tekken World Tour 2018 Finals event. The LCQ will consist of 256 player slots; competitors will vie for the top spot which will qualify them to enter the main event taking place on December 2nd as one of 20 finalists competing for the coveted title of Tekken World Tour 2018 champion.

"Since its inception and inaugural tournament in 2017, the Tekken World Tour has gained momentum, countless new fans, and delivered overwhelming excitement both onsite at the events and online on Twitch," said Eric Hartness, Vice President of Marketing for Bandai Namco Entertainment America Inc. "As we approach the Tekken World Tour 2018 Finals, the Tekken 7 community is stronger than ever, the skill-level of competitive players is higher than ever, and we expect to produce the best Tekken World Tour Finals event ever!"
Enjoyed this article? Share it!