E3 is here, and Bleeding Cool HQ is set up in LA (and seriously jet lagged). The big Superbowl event of the games industry is in a weird place this year, with a companies like EA and Activision deciding to go it alone, albeit in the proximity, and Disney having pulled out of their spot (although, they've more or less pulled out of games wholesale at this point.) On top of that, the leaks this year have been insane, with a lot of announcements plainly leaking, and some companies deciding to go a little early with games like Watch Dogs 2, Destiny and Injustice 2 all getting early limelight.
But as is customary, E3 predictions are running rampant right now and I'd thought I'd get into the action to. Here are 5 things that I expect we will be treated to this year though
Hideo Kojima Will Show Off A Trailer For His New Game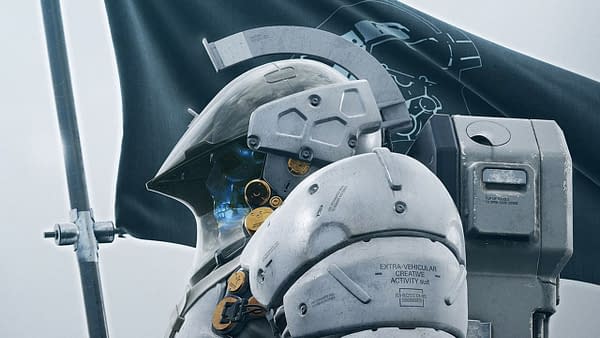 The common consensus is that there is no way Hideo Kojima will have done enough work on his first game free from Konami to really show off at this years' E3. The ink is barely dry from his decision to work with Sony on a new game. I tend to agree with that…
…but, I fully expect to see the title at E3 regardless. I don't expect much, but I do think there will be a brief cinematic trailer, and a title given to the game. We've seen al ot of Kojima Production's mascot 'Ludens' recently, and I think he might be part of the game, thus explaining the changing high render images of him Kojima has been sharing.
Naughty Dog Won't Be There Many expect that we will hear from Naughty Dog this year, with the common thought that the developer will be announcing The Last of Us 2. It might seem a little soon after Uncharted 4, but that game was actually announced around the same amount of time removed from the first The Last of Us.
However, I don't think we will be hearing from Sony's crown jewell this year. When Uncharted 4 was announced, Amy Hennig was the creative head, before she left and Neil Druckmann and Bruce Straley took over. I don't see a world where those two aren't heading The Last of Us 2, so I think it might be too soon for them specifically.
From Software Will Announce A New IP From Software have a big question mark around their head right now. With Dark Souls 3 now out of the way, the company is moving into an era that leaves legendary designer Hidetaka Mikyazaki as CEO. He has said that he doesn't want to continue with Dark Souls right now, and I'm guessing that probably rules out Bloodborne for now. I think that From are going to be stepping away from that entire genre entirely for a while.
So what will From be doing? It's a great question, and one I think we will get answers to this week. I don't expect much, but similar to Kojima Productions game, I think we get a cinematic trailer announcing intent.
Bonus points:
It will be a totally different setting to what From have given us over the last few years.
It will be announced on the Microsoft stage.
Mass Effect Will Show Off Massive Gameplay Demo Showing Planet Exploration Mass Effect: Andromeda is going to be at E3. That much isn't a secret. However, I'm going to take a stab at what we are going to see:
I think we will see a small bit of dialogue showcasing a tweaked system to interact with other characters. We will very briefly be introduced to the Pathfinder before he walks through his ship to get to a star map. Then we will be shown a complete revamp of space travel and see planetary exploration with a seemless experience from ship to on the ground.
Too specific?
Warner Brothers Montreal Will Show Off A DC Game Warner Brothers Montreal have been very quiet for quite some time. The studio, which developed Batman: Arkham Origins, was created for the express purpose of making DC Games, but besides providing some DLC support on Arkham Knight, it has been quiet. Too quiet.
That's why I think it's time for the studio to come out swinging with a new project. I think it will be 'Arkham like', but focus on other characters. Suicide Squad has been batted around for a little while, but my money is on a Justice League or a Superman game.
–
You guys got any guesses? I'm going to be you do. Throw them at me in the comments.
Enjoyed this article? Share it!