Warcraft Arena World Championship 2022 Reveals Spring Schedule
Blizzard Entertainment dropped new details this week for the Warcraft Arena World Championship 2022 schedule for Season Three. The next major cup kicks off this weekend as both the European and America divisions will playout for the first Cup, with a new cup happening every weekend for the next four weeks on YouTube. Each region will be competing for $10k per cup in each region with a combined $700k prize pool between them. This series will be double elimination, best of five, giving everyone about as fair of a chance to win it all as they can.
Joining the casting crew this time around will be Gillian "Eiya" Long, Sid "Supatease" Compston, Elliott "Venruki" Venczel, and Mohamed "Ziqo" Beshir. This one should be pretty fun as they're using the weekend to reveal several new expansions for Hearthstone, World Of Warcraft, and more over the next couple of months. This isn't too surprising considering BlizzCon didn't happen (and who knows if it will ever return), so they're doing reveals more on the fly for events.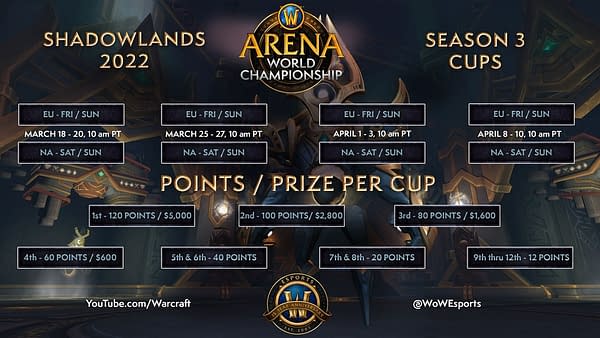 We've all been waiting patiently in spawn, and it is finally time for the arena gates to open once again. This weekend kicks off the first of four separate open cups for Europe and North America with $10,000 (USD) in weekly prizing per region. XXX players across Europe and North America have registered for their shot at earning enough points during these cups to join the top eight teams from each region that will advance to the Circuit, and then the Global Finals, competing for their share of the $700,000 total prizing for the season.

"These cups are especially exciting," according to Adrian "Healingstat" Archer-Lock, Associate Product Manager of World of Warcraft Esports. "Teams have been getting better and better with more orgs entering the space, ensuring the competition has never been higher in the history of AWC."