Posted in: Digital Extremes, Games, Video Games, Warframe | Tagged: Digital Extremes, Warframe
---
Warframe Is Getting An All-New Armor Added This June
Check out the latest dev notes from Digital Extremes as a new Warframe is on the way, along with some much needed additions, this June.
---
Earlier today, Digital Extremes unveiled some new content during the Warframe Devstream 171, as The 7 Crimes of Kullervo will be added to the game this June. A solid date hasn't been put on the content yet (which seems odd since June is literally five days away as of when we're writing this), but what we do know is that a new deadly new area will be introduced with the world of Duviri, several new gameplay mechanics and the 53rd playable Warframe, Kullervo, will also make their way into the game. The update will also provide improvements to variety and replayability of the game's open-world roguelike experience. We got dev notes for you below as we now wait to see when we'll get the content.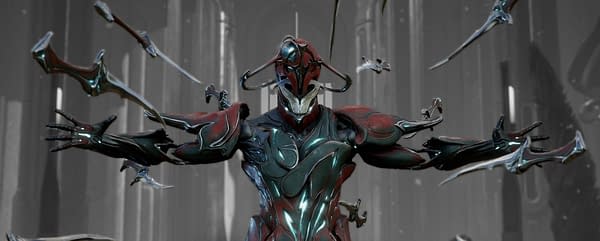 The 7 Crimes Of Kullervo
Kullervo – a new Warframe with a violent and vengeful nature – lies trapped within the Executioner's infinite prison of Duviri, desperate for a way to escape its grip. Players will overcome new challenges and unique puzzles as they explore its depths, learning more about the crimes of the tragically heroic Kullervo before ultimately battling the imprisoned warrior to release him from captivity. In addition to adding a new Warframe to instantly unlock or earn through gameplay, The 7 Crimes of Kullervo brings new levels and 15 Decress for players to diversify their Duviri experience, including 5 Corrupted Decrees straight from the mind of Dominus Thrax. Players will also be able to battle an iconic enemy in Duviri Exterminate Missions with a new Gauss Deluxe Collection inside a new Undercroft Tileset. What's more is exciting new gameplay mechanics and activities are also being introduced with the update, including an updated Gardening Resource Loop and the return of Kaithe racing.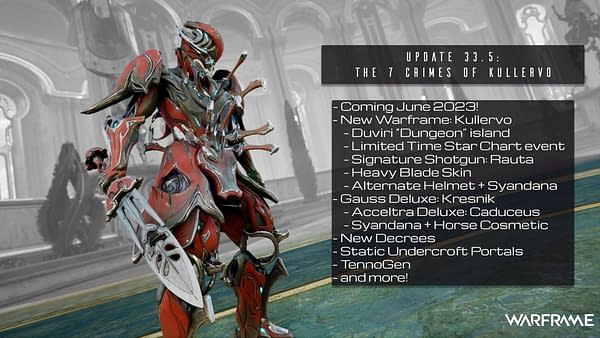 Warframe Wisp Prime Access
Warframe players can instantly unlock or earn the primed variant of the elusive enchantress Wisp with Wisp Prime Access for all platforms. Summon strange apparitions from beyond the breach and vaporize enemies with Wisp Prime, featuring improved base stats and more Polarity slots with the slick signature gold trim of a Prime. Wisp Prime, her signature Weapons Fulmin Prime and Gunsen Prime, and her exclusive Customizations will be available for all platforms this summer. Players eager for more Warframe action can jump into the recently released Nightwave Nora's Mix Vol. 4 for a fresh new mix Acts and Rewards to earn. Any rewards that players have already unlocked will be replaced with Nora's Mix Vol. 4 Cred. Cred can be traded for rewards, including the Kaithe's Grace Sigil, The Drifter Keeler Suit, Eukar Claw Skin, and two new Weapon Augment Mods for the Ocucor and Battacor.
---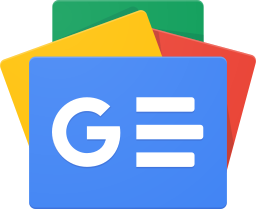 Stay up-to-date and support the site by following Bleeding Cool on Google News today!