Wave After Wave Of VR Challenges: We Review 'Raw Data'
Everyone loves a good rebellious story against an evil corporation, and Raw Data is no different as they take their cybernetic warfare story into the PS4 and VR. The game has already been out on Steam for a while, but since this is the game's official launch onto both systems, we'll go with PC for this review. The game puts you in the role of a hacker working with the resistance group of this world, who must retrieve data about Eden Corp. that will show just how evil and corrupt they are. But, as always, things are never that simple. As the title suggests, you're going into the heart of the beast to collect as much raw data as possible for your comrades who chose not to take this dangerous mission with you to comb over. As you collect information, you'll be told what it means and be told where to go next to get the next part. From here you'll dive into first-person mode to take out drones, androids, advanced enemies, and whatever other weapons the evil corporation has stored on multiple floors to stop you, all while hacking your way through it all. The gameplay is pretty solid as I can choose one of four characters to move through the level with, each with their own special abilities and attacks. Depending on how you like to battle, you can probably size everything up with a katana, double pistols, bow and arrow, or electric gauntlets. Some have great bonuses for getting around, but all come with drawbacks, so you have to choose wisely. There is some repetition as you get wave after wave of enemies and defenses, but you luckily get to place turrets to help you out and you have a teleport ability to get you around in a pinch. The game is difficult, even in the regular setting, so it isn't for the timid as you'll be put to the test throughout the game. Graphics and audio wise, the game is pretty decent for what it's worth. You're dealing with a VR environment, so there's a lot of things here and there that don't quite come out in the wash. The disembodied hands you fight with, the way some enemies die when they hit the ground, the way certain levels look when there's too much chaos happening around you—all of them have issues. They don't break the game or ruin everything, but they don't make it easy on the eyes sometimes. The soundtrack is awesome, but it occasionally gets blared out by the sound effects happening all around you, even when you adjust the settings.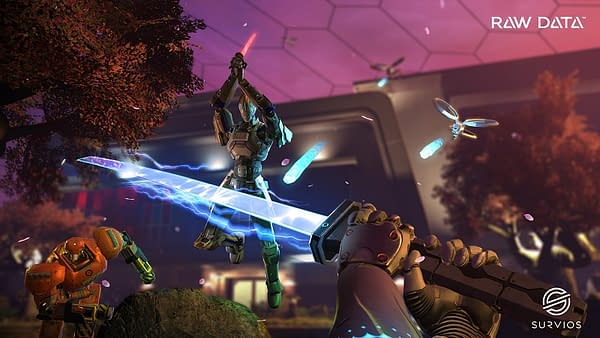 Raw Data is a decent game, but there are issues with positioning and rotation for a VR game. When you get your bearings, everything flows a lot smoother than you may expect. However, keep in mind that you'll be juggling your way through the game as you figure out how to combat every wave of enemies. The game is ten levels deep with a few degrees of difficulty, so there are more challenges ahead if you think the game is timid. That all being said, there are areas they could improve on, which I hope will come in later patches.