We Got A Better Look At The Atari VCS During E3 2019
For over a year we've wanted to see what exactly would be going on with the Atari VCS in person, and during E3 2019, we finally got the chance. For some reason, Atari decided they didn't want to be on the E3 floor either and only held private meetings to check out a fully functional console. Some new details were given to everyone who came to check it out, starting with the fact that it won't be released until March 2020 after it got an upgrade in the hardware with the new AMD Ryzen chipset, which forced the pushback. There will be two models: the 800 (8GB of RAM) and 400 (4GB) that are upgradable by swapping in more RAM and storage. Several different color variants will be made, the first is the Collector's Edition which has wood paneling that more closely resembles that on the original Atari 2600, which will be given to those who backed the project on IndieGoGo. The second for Walmart shoppers will exclusively carry the Kevlar Gold model. The third at GameStop will exclusively carry an Onyx model with a sleek red backplate. And the fourth on the Atari VCS official website will exclusively carry the Black Walnut model. The regular Onyx model with no special additions will be found everywhere.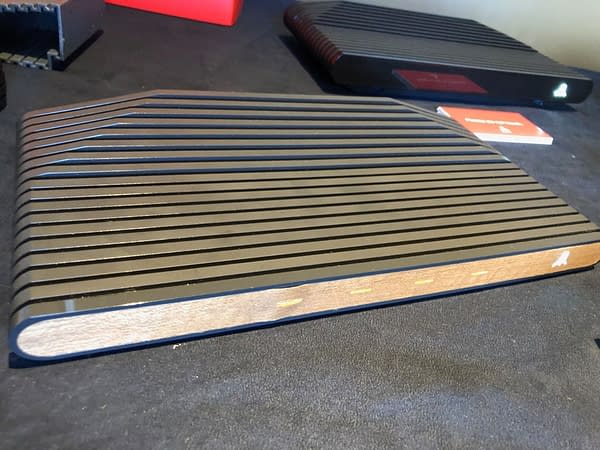 As far as pricing goes, the base 400 model will be $250, the base 800 model will be $280, and the "All In" version which is the 800 model and the two controllers will go for $390. We got to watch them play around with the menu, which looks pretty crisp as you can switch between the game library, apps, and the Sandbox mode. The thing about this that will catch people's attention will be that last menu item, as Atari is essentially giving you a programmable system where you can create your own games on their hardware. Everything about the memory and RAM is expandable and upgradeable, meaning you could theoretically slam a 4TB SSD into this system, or at least attach one, and start programming your own games using their system. Like owning your own dev kit. The system can support Bluetooth accessories, meaning a keyboard and mouse won't be too much trouble to link up. Along with the controllers, you essentially have the ability to program an indie game that's ready for both Steam and home console use. That's where the major appeal will be for the Atari VCS.
We kinda want to get our hands on one right away and start experimenting with the options available, but we're guessing we won't see our version of the console until sometime in late winter. In the meantime, it shows a lot of promise, but not for the reasons average gamers are looking for.