What's In The Box?!: Star Trek Mission Crate – April 2018
When the day came that I learned that Loot Crate was making a Star Trek specific box, I was immediately on board! The idea of having a monthly Star Trek-themed subscription box headed to my door made the Trekker in me very happy, as I now knew I'd be getting some cool items at random from one of my favorite shows. But knowing the over 50 years of history from the franchise, it did make me wonder what Loot Crate could possibly put in here. So we threw on the red tunic and hailed the company to beam us a box immediately.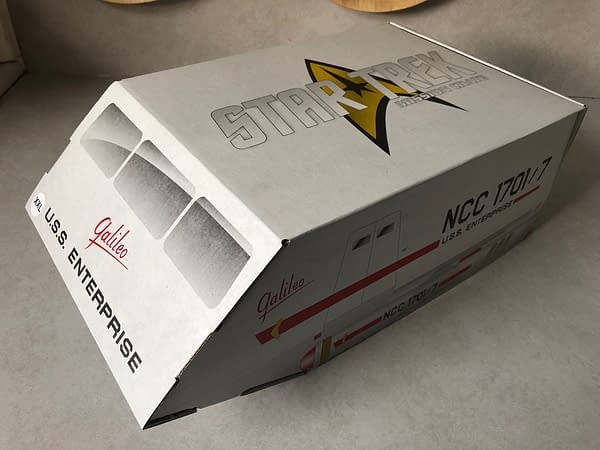 First thing's first, let's take a moment to appreciate the design of this box. Loot Crate could have just thrown this into another black box and slapped the Starfleet insignia on the top and called it good, but instead, they created a shuttlecraft box to match the ones from the original series. They even tossed in a few designs on the inside to make it feel like a real toy. Kid me wants to cut the top open so I can have away missions with all the figures I don't have anymore. Which is a shame, because I bet Sgt. Slaughter and Rocksteady would have had a blast taking out magots and turtles.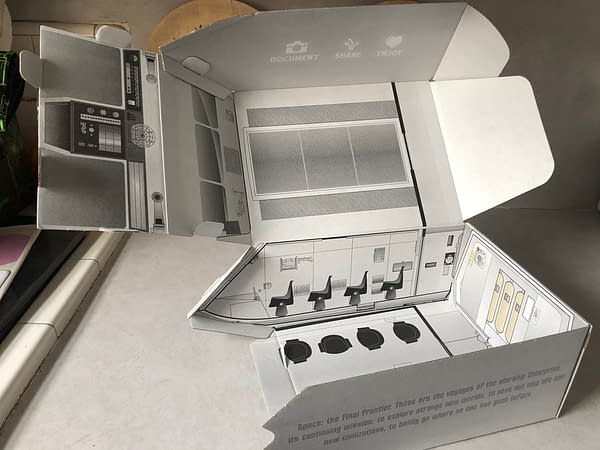 The first item out of the box is a Starfleet division badge from Qm. This particular badge comes from Star Trek: Discovery and the one I received was for Engineering (or Operations as the packaging calls it). This is a pretty cool setup as the badge comes apart in two pieces with magnets on either side. All you need to do is slip the back behind the shirt you're wearing and then clasp the front on the other side to let the two points meet. A pretty easy and harmless setup, though probably not a great idea for anyone with a pacemaker to put it on the left side. I love this to death, no complaints.
Next up we have a sticker featuring a Borg cube with the words "Resistance Is Futile" along the bottom. There really isn't much to write about this one, it's just a sticker thrown into the mix for Trek fans to throw on their car or laptop. It's cool for what it is, but it's still just a sticker and it really only serves the purpose of a one-time use on something. It's cool, but not that exciting.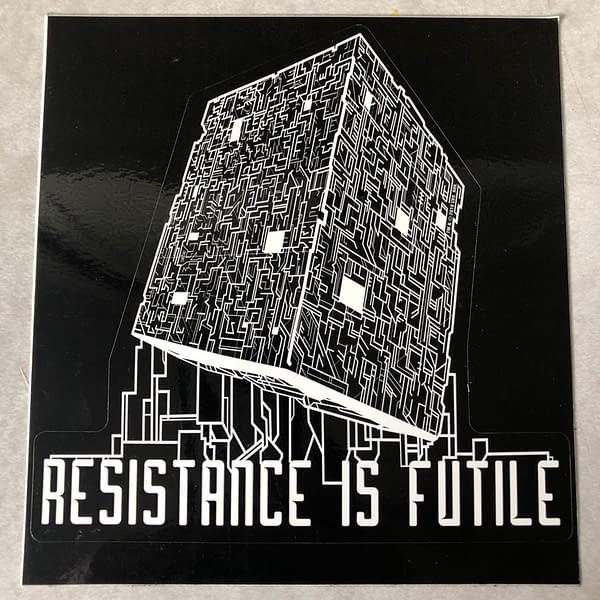 Moving to gaming, we got a special code for Star Trek Online. You have to own the game to redeem the code, which will get you a Federation Starter Kit. That includes a Tier 1 ship, ground and space gear, a Loot Crate emote, and a few other add-ons they threw into the mix. It's a good code to have for the game as the ship will at least get you some looks from people, especially if it snags you the original USS Enterprise. This one was enjoyable to claim.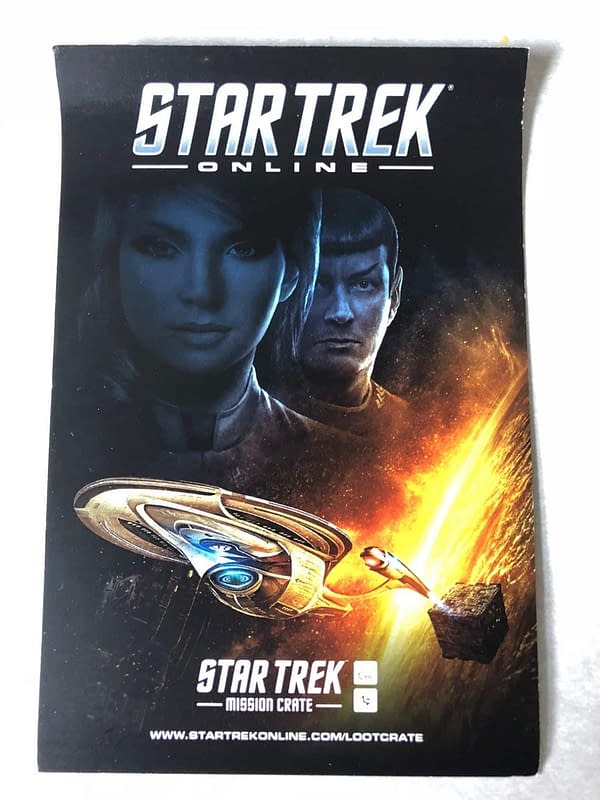 Moving onto models, the first one is a model of the Enterprise D. The ship isn't that big, as it measures five inches from 10 Forward all the way to the end of the nacelles and stands about three inches tall from the bridge to base. The bottom of the ship has a magnet in it, which connects to a transparent holder that sits on a base showing it off as the Enterprise from Next Generation. Ther isn't a lot to this one as it's a small model for your desk or shelf to show off to people. The details is well done for the size of the model, and it does make for a nice simple way to show off what kind of fan you are at work or home.
The other figure we got in the box was that of Locutus from the Borg. If you're any fan of Star Trek, you most likely recognize the Borg version of Captain Piccard from "The Best Of Both Worlds", filled with borg parts and sporting a black unitard with a metal plate across his face. This was a really well-done figure, as it captures everything about the costume and design from the episode, all the way down to his mechanical arm that no one ever gave us an explanation as to what it does beyond twist around and make noises. While it's a cool figure with a lot of detail, we're also not quite sure how to feel about it as it shows Patrick Stweart in one of his most unemotional stares and poses possible. It's great to see, but we're not sure who might show this one off.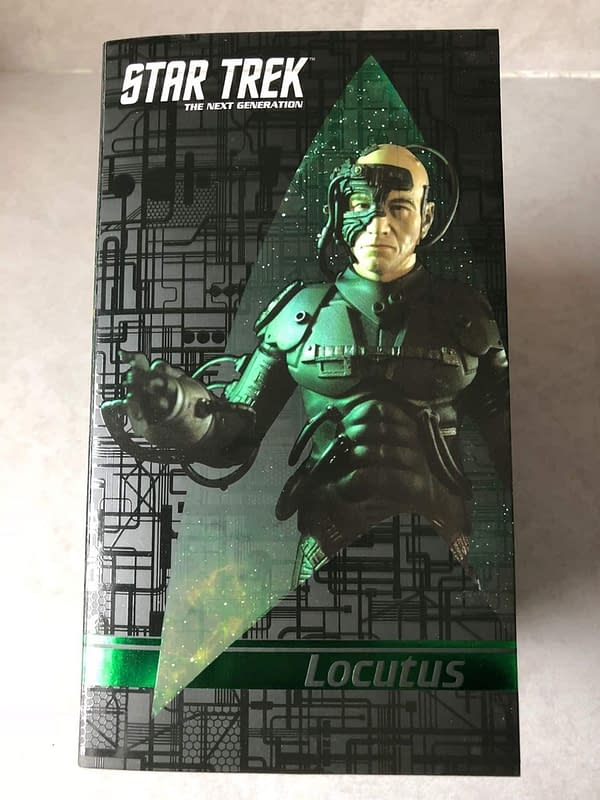 Finally, the make-or-break item of any subscription box: the t-shirt. This box started off pretty strong as we have a design of the TNG Enterprise from the top with green Borg technology and wiring underneath it. The design of this is pretty badass as it's a detailed but simplified two-color print that shows one of the most recognizable images in all of Star Trek along with imagery of one of their greatest enemies of all time. The only drawback to the shirt was the neckline was way too snug. This is a 60/40 cotton and polyester blend that basically rubbed my neck raw. I wanted to love this shirt because the design is great, but the cloth used for it was just terrible.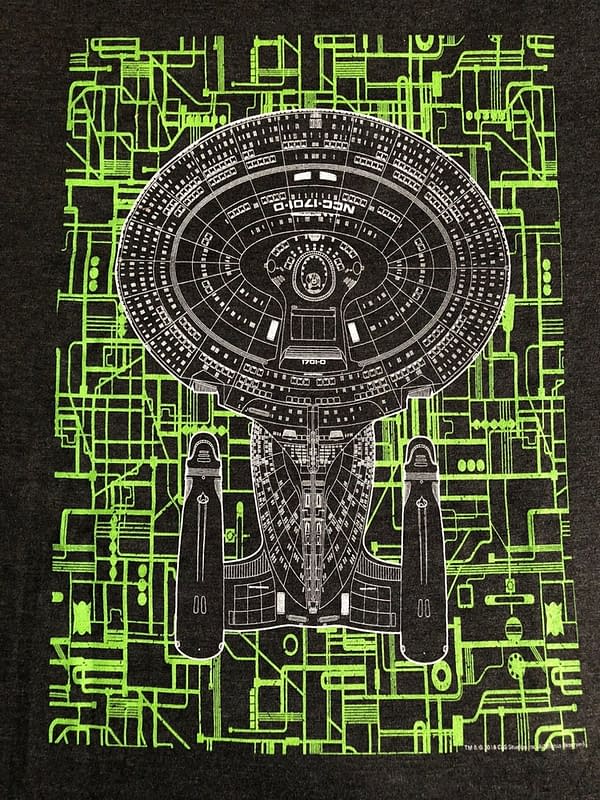 Overall, the box for me was a winner. There's a lot to love about this as it covers several areas that a subscription box should. Granted, it touched on only two different series and a video game, but it was still a pretty good box. I'm kind of interested to see what the next one will be like and if they manage to hit on the original series and Deep Space Nine. Until then, this was a pretty decent start.