We've looked over a couple different products from Volante Design last month, but we saved one of the best for last as we get into winter months. The final item we have for review form the company is this awesome looking Augment J3 jacket in black and purple. But how well does it hold up as both a costume and a piece of usable clothing?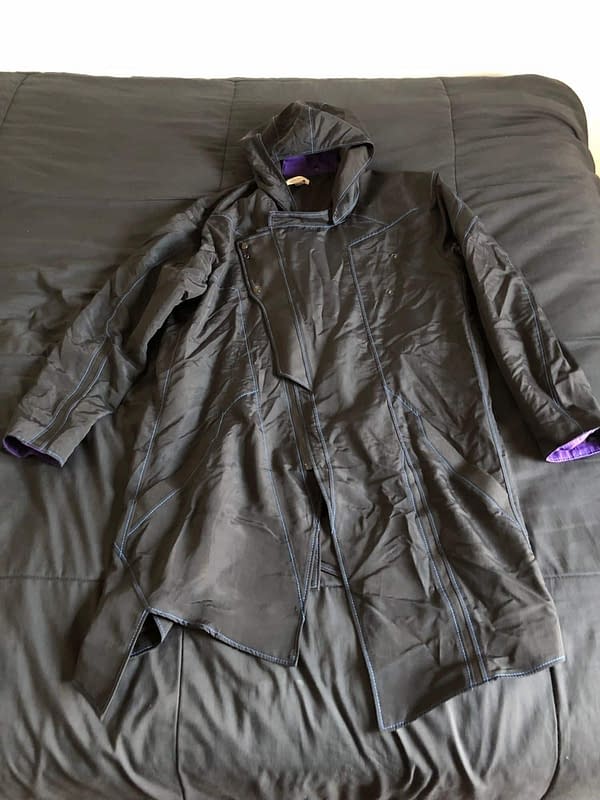 First off, this jacket is one of the lightest pieces of gear we've ever had to review. The material is 90% nylon, 7% vinyl coated poly, and 3% cotton, giving you what is essentially a slick and lightweight feeling that can also absorb some heat and remain waterproof. The stitch work on this to give you a badass black jacket with some colorful accents is brilliant, as you can see here on one of the sleeves where the purple was carefully crafted with blue thread to give a lovely accent while still retaining the black of the coat. I loved this attention to detail throughout the jacket.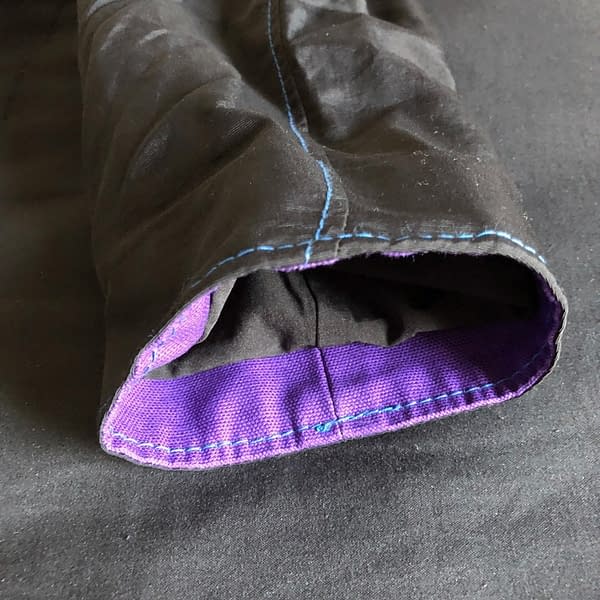 This particular design comes with a few pockets. On the outside, you have two, one on each side like a regular jacket might have. These are above average size, so you can fit your hand and a couple items in there. They may take a minute if you're looking to get your hands warmed up inside them but they do the job nicely for storage. A lovely plus is that because it's a custom tailored jacket, the weight is distributed properly so you have this middle-ground feeling of knowing something is there but not having it weighing you down.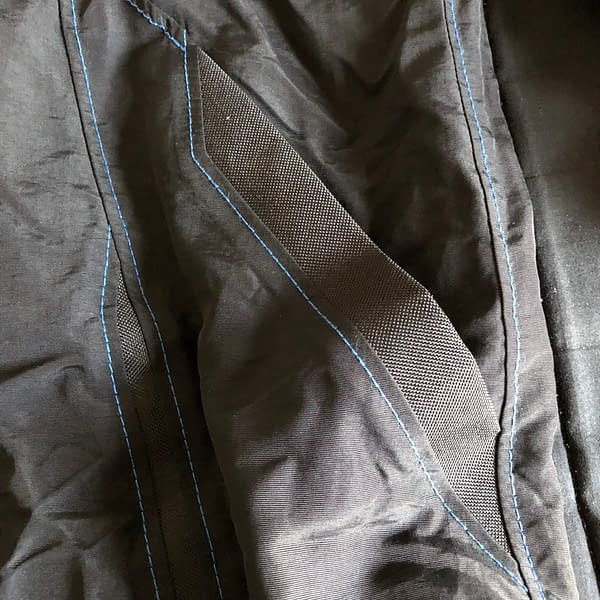 The front of the jacket is a zipper/button combo. As you can see here, you zip the jacket up first and the button over the top of it to give the jacket a signature look as if it were some sort of military or official garb, which I found quite appealing. There's also a second button set on the right side so if you decide to unzip the jacket and walk around with it open, you can button back the overlapping flap so it's not just hanging down. That's a lovely piece to this design that makes it very functional if you're getting warm.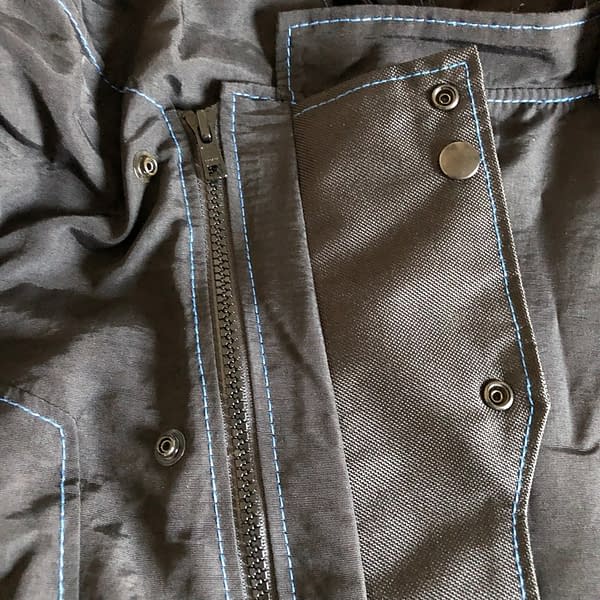 The other two pockets are on the inside of the jacket. They're positioned on top of each other on the left side of your chest, making for easy access when you unzip the coat down a bit. They're perfect for fitting in thinner items such as your wallet or your mobile phone. If you cosplay at conventions a lot, they make a great spot for carrying cards and playing decks, photographs, badges, that kind of stuff. they've well made and very discrete.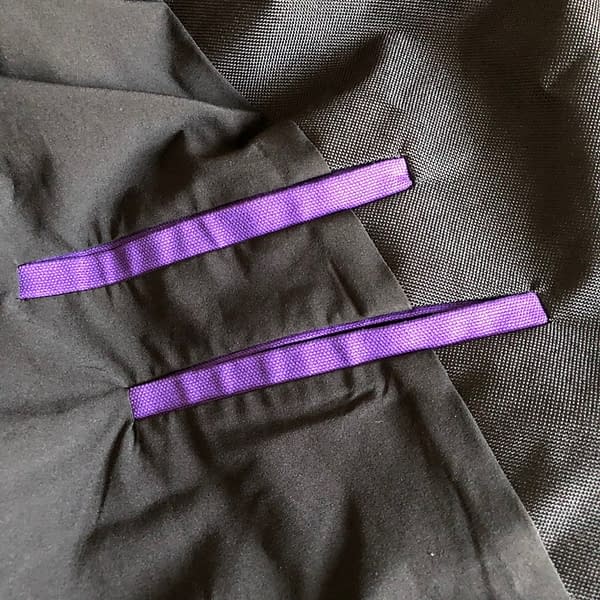 The top part of the jacket has a removable hood. I absolutely loved this for a couple of reasons. First, it makes it versatile depending on the weather or the type of character you're playing. Second, this was a tri-fabric design so there's no pointed end on the top of the hood like you would see on a two-sided stitch. Third, it makes the jacket more of a utility when you need it as opposed to forcing a hood to hang off it all the time like a hoodie would. And fourth, the inside is quite comfortable and allows you to create hwoever much space you want between your head and face and the fabric as you desire.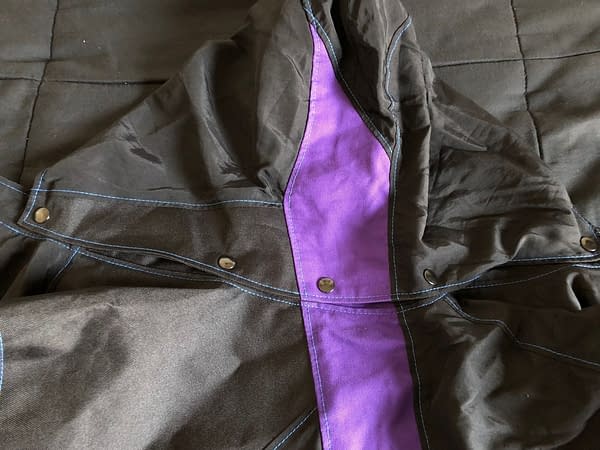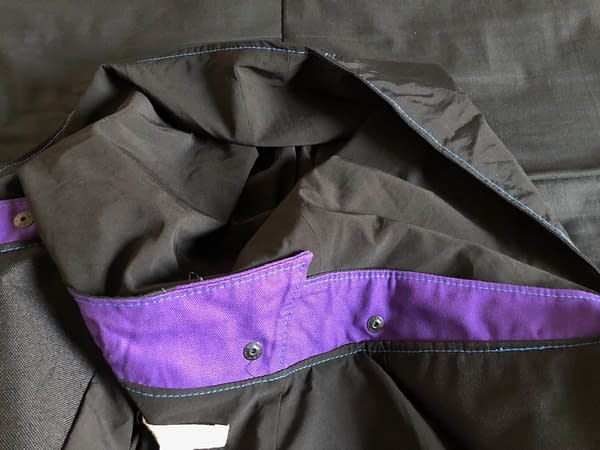 The last piece to discuss is the back design and the way they've used the colors to bring this jacket out. One of the slogans Vilante Design uses is "Superhuman Streetwear", as in clothing you might expect the next comic book hero to be dressing in if they were just a vigilante on the streets. Having the purple mixed in as a sort of design choice is brilliant as it could be anything to anyone without it being a specific symbol. Some might see a spear, others might see a scar, a few might see a tear in space. Whatever the case may be, these are well-designed and I love the way they come across.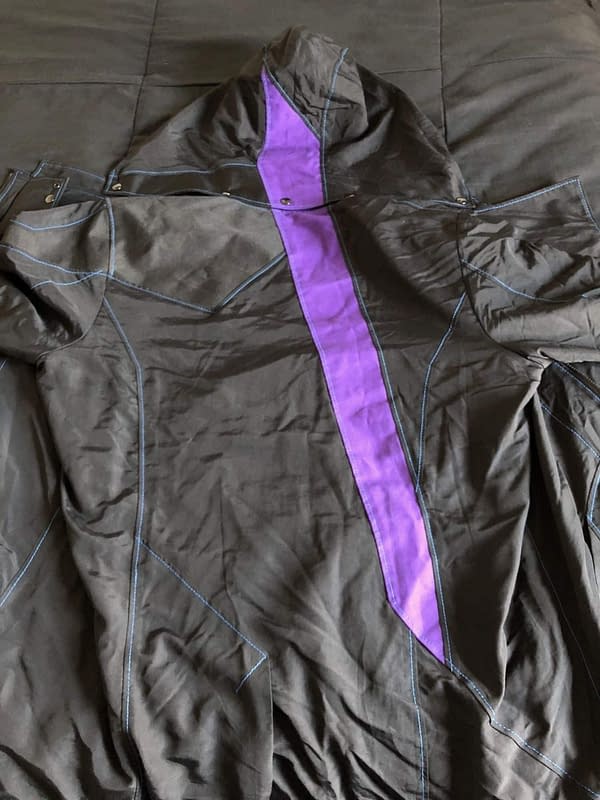 Overall, the Augment J3 jacket from Volante Design is awesome. Its functional, its practical, it's a great costume choice and it makes me look like a badass. The price might make a few people jump at $395, but considering the work that went into this as a tailored design to meet your needs, it's actually a pretty decent price you might expect to pay if you went and had a professional cosplayer make it with the same fabrics and colors and labor. I highly reommend it to people who have a little money to burn on quality.
Enjoyed this article? Share it!