World Eternal Online Launches Online Alpha For Testing
Would you like to try out the new online RPG World Eternal Online? The devs are currently running an online alpha.
---
Developer and publisher Core Loop has launched the online alpha for World Eternal Online, giving players a chance to try out an early build for testing. The alpha will run for the next few weeks, giving you a chance to experiment with different aspects of the game for free as the devs see what works and what doesn't. You can sign up for the alpha on their website, as we have more info on the game down below.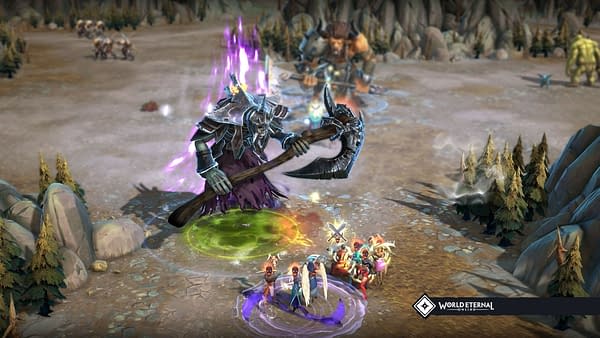 "The world of Althea is a strange and wonderful place, but every 100 centuries a demonic horde invades the world, hellbent on total destruction. Legend has it that the last time the demons attacked, they were defeated by an unprecedented alliance of five factions of heroes. 10,000 years have passed, and what had become legend, is now a reality. The hordes have returned, more powerful than ever, and this time they have torn open holes in the world, shattering space and time as they swarmed into the world, causing utter chaos. Our brave heroes have pushed the invaders to an undiscovered continent, where they are waging war right now. This area is known as the Lands Beyond, but our heroes are in dire need of your help. Come join the heroes in endless adventures and battles which you can take part in and share with friends. You may choose to engage in PvP battles or challenge yourself to build your city and defend it against opposing forces wanting to wage war."
"Enjoy the bloodthirsty thrill of slaying huge roaming raid bosses and conquering territories throughout the dynamic and ever-changing world. Raid dangerous dungeons, seek out and collect Heroes, lay siege to rival guilds' well-defended fortresses and territories or even combine forces with other guilds to form powerful factions. Players can level up Legendary Heroes for battle as well as build cities where they can harvest resources and craft weapons and potions or breed pets. World Eternal Online features GamePass for players wanting to purchase in-game bundles filled with digital items and currency, access to the World Eternal Online VIP features, and more unannounced future benefits. GamePass has one more unique feature, which is 100% player optional. Players can decide if they want to upgrade their GamePass to a limited edition digital collectible allowing them to own, sell, or trade their collectibles!"