WWE 2K19 Introduces An Insane My Career Trailer With Magic
If you're looking for something hilarious in WWE 2K19, 2K Games just provided the next insane trailer for the game where magic is a thing. So, before we get into this, let's put all of our cards on the table for a second. As an entertainment platform, WWE has never been above making magic a reality. They once had Hornswoggle run through a painted hole in the wall like he was the Road Runner. Hell, the Undertaker is basically a wizard who can make smoke and lightning appear because he can. So, it should not come as any shock that those elements finally came crashing through the wall in the latest video game. It wouldn't be the first time, however, they went all-out in this one.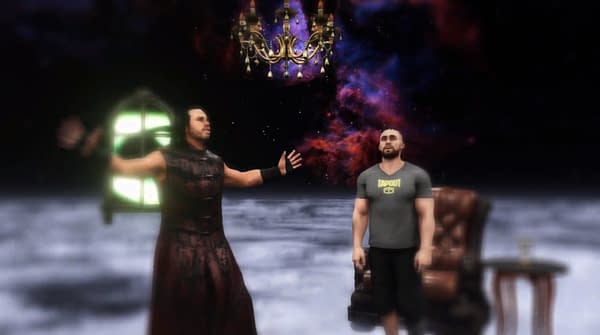 Enjoy the WWE 2K19 My career trailer below, where the company tried to create a fake indie promotion called BCW from which you start out in, eventually leading to being on NXT, Smackdown, and finally RAW. But along the way you get poisoned by Bray Wyatt, visit the Multiverse with Woken/Broken Matt Hardy, and get your ass handed to you by a zombie version of Triple H wearing a king's crown. If you can make any sense of what's happening here beyond the indie stuff, good for you.