If you happen to be a fan of "Nature Boy" Ric Flair, then 2K Games has just the copy of their upcoming game WWE 2K19 just for you. The multi-time champion and only two-time Hall of Famer will grace a special edition of the game being called the "Wooooo! Edition". As you can see from the box art below, this version basically celebrated everything that is Flair and his daughter Charlotte Flair in a package that includes pretty much everything you'll get in other editions, with some bonus goodies.
Included in the list are some of Flair's greatest rivals in Dusty Rhodes, Ricky Steamboat, and Roddy Piper, not to mention Randy Savage from 1992 and the Undertaker's American Badass look from 2002. Basically, you'll be reliving some of Flair's greatest wars from the NWA/WCW and the WWF/E. Also, the original Starrcade '83 arena, which you know will be made to look like a WWE arena, but that means we'll probably be getting Harley Race in the mix as well. Here's more info on the content and an official trailer.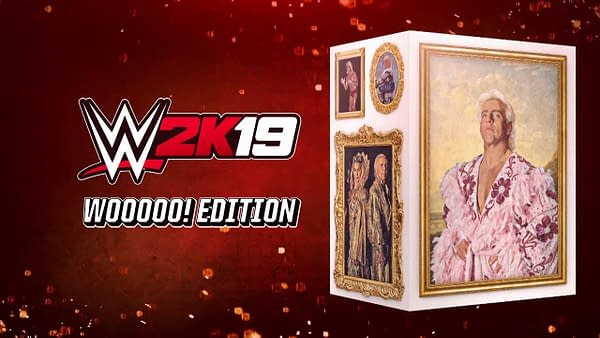 WWE 2K19 video game with Deluxe Edition packaging
WWE 2K19 Season Pass digital content (details announced this summer)
Playable characters Rey Mysterio and Ronda Rousey
Playable WWE Hall of Famers ('80s-inspired): "Rowdy" Roddy Piper, Dusty Rhodes and Ricky "The Dragon" Steamboat
Playable characters: "Macho Man" Randy Savage (WrestleMania VIII) and Undertaker (2002)
Playable arena: Starrcade 1983
In-game attire: Ric Flair (WrestleMania 24 robe) and Charlotte Flair (WrestleMania 32 robe)
https://www.youtube.com/watch?v=WeVlK04H1-k
Enjoyed this article? Share it!