WWE 2K23 Releases First Ringside Report Leading To Launch
2K Games shares the first of many blogs about the upcoming release of WWE 2K23, going over what you can expect from the game.
---
2K Games released the first of what will probably be many Ringside Reports for WWE 2K23 before the game is released in March. This specific report focuses on WarGames, specifically how the mechanics of the game work when you're setting up a match and the gameplay to follow, as it has unique changes that you can only see and play in this particular mode. Not to mention special moves that can only be done inside the double-ringed cage. We have a few details from the blog below, as you can read more details on the game's website.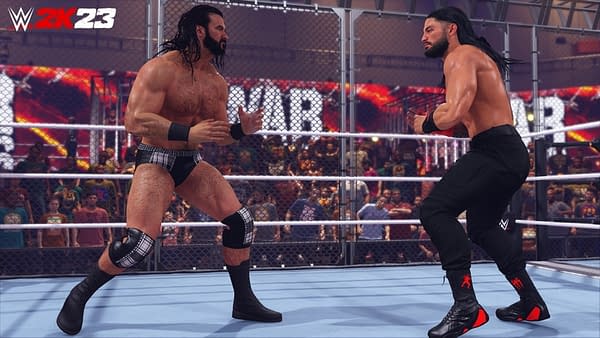 "With both 3v3 and 4v4 options, there is no shortage of mayhem, whether playing solo or with friends. As part of the match setup, players also have the option to randomize the team advantage (which team gets the 2v1 advantage after the first new entrant) or to assign it to a specific side. Players are also not limited to using WWE Superstars or Legends, as created wrestlers are allowed for both men's and women's matches. In addition, there is some customization allowed such as confining wins to only pinfalls or submissions, instead of both."
"Entrance intervals can also be customized in 30-second increments. By default, Superstars enter the match every 90 seconds but can range from 30 seconds up to five minutes. Once a match begins, players take control of the Superstar they chose. If that Superstar is waiting in a holding cage, they can either let the AI play until it's their turn to join the match or by pressing the View button on Xbox or the Touchpad on PlayStation controllers to quickly swap which Superstar on the team they are controlling without having to go into the Pause menu. But what's a WarGames match without teaming up with friends or bringing the pain to them?"