WWE's Zelina Vega Joins Street Fighter 6 As In-Game Commentator
Thea Trinidad will be joining Street Fighter 6, adding her voice to the commentary team in the game to talk about the fights.
---
Capcom has announced that Thea Trinidad, better known as WWE superstar Zelina Vega, has joined Street Fighter 6 in a special role. As you may have seen last night (and can see in the images below), Vega came out to the ring dressed as Juri from the next entry in the franchise. As she came down the aisle to compete in the Women's Royal Rumble match, WWE let it be known she had been added to the property as an in-game commentator under her real name. Trinidad will be one of the many color commentators inside the game that will talk prior to and during some of the fights in certain modes, bringing a sense of reality and even esports casting to the game. You can hear her in action in the latest trailer for the game, which we have for you down at the bottom, along with more info on what exactly the commentators will bring to the game.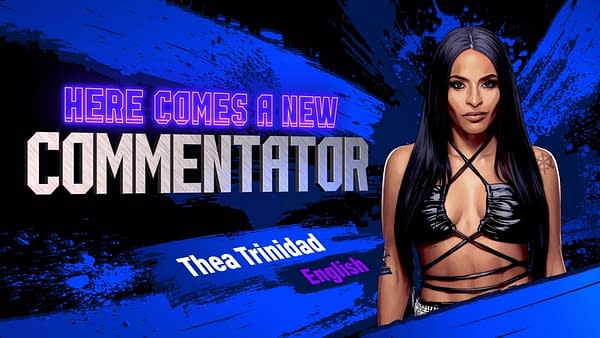 "I've been an avid gamer since I was a child and a huge fan of Street Fighter," said Trinidad. "I can still remember epic matches with my brother, and I would always beat him with my favorite character Vega. It's surreal to now be a part of this amazing franchise, and I am honored and thankful for this once-in-a-lifetime opportunity."
"The Street Fighter 6 Real-Time Commentary feature incorporates the voices of popular Fighting Game Community (FGC) commentators and personalities to narrate matches as they happen with easy-to-understand gameplay explanations. Recently announced play-by-play commentators include Jeremy "Vicious" Lopez, Ryutaro "Aru" Noda, Kosuke Hiraiwa, and Steve "TastySteve" Scott, with a tag team of color commentators including Thea Trinidad, H.E. Demon Kakka, and James "jchensor" Chen. This feature will support subtitles in 13 languages for increased accessibility and player excitement."