Zynga, the mobile game devs responsible for gems like Words with Friends and FarmVille, have announced the global launch of Game of Thrones: Slots Casino on the App Store and Google Play. This new entry in Zynga's social casino portfolio transports players to Westeros for a social slots gambling experience, that's covered in direwolves and dragons from HBO's hit TV series.
Before you go off thinking Game of Thrones: Slots Casino is just a slot machine simulator with a GoT skin, there is an actual plot to the game with the expected levels of drama, intriguing dialogue, iconic characters, and musical themes you've come to expect from the show.
Confirmed characters for the game include Cersei, Jamie, and Tyrion Lannister, and House Stark members, Sansa, Arya, and John Snow. There may also be a Mother of Dragons in there as well.
"As longtime fans of the series, Zynga is honored to contribute to the Game of Thrones universe, and honor-bound to provide players with an experience that reflects the scale, scope, intensity, and community of the series," said Bernard Kim, President of Zynga. "The visual and audio design of the game truly evokes marquee moments from the series, and with our House-themed social features, players can band together to chase the throne themselves. Westeros lives on!"
The game's social features allow players to work together in order to form their own Houses. There's also a weekly 'For the Throne' challenge where player Houses are challenged to conquer each territory on the game map of Westeros, in order to rule them all and take the Iron Throne. Though, only the top player from the winning House will get the rights to the fancy sword chair, so do keep that in mind.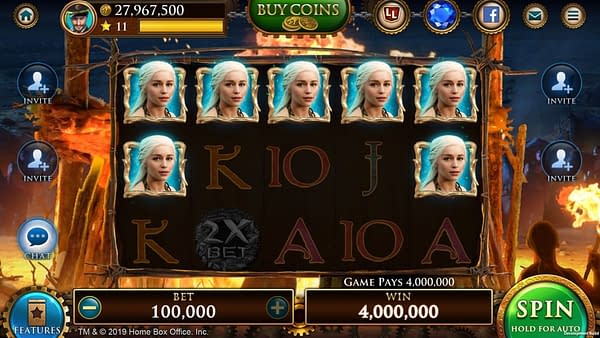 Game of Thrones: Slots Casino features:
Authentic Game of Thrones atmosphere. Slots casino gameplay is steeped with the sounds, characters, environments, and ethos of Westeros, including unforgettable dialogue such as "Winter is coming."
Best-in-class slots features. Spin on exciting, Game of Thrones-themed machines, featuring real-word mechanics like Progressive Jackpots, Bursting Wilds, and more.
Join a House and reap the rewards. Gain advantages and rewards by joining or forming a House with other players, collecting coins for every housemate's win.
Strategize, scheme, align. Connect and conspire with friends via the in-game chat at any time, even when spinning the slots.
Collect iconic cards. Spin to earn and level up cards featuring characters from the series, from the adventurous Arya Stark, to Jon Snow's beloved companion wolf, Ghost. Collect all of the cards to earn a massive reward.
Game of Thrones: Slots Casino is now available for free download on the App Store for iPhone and iPad and Google Play for Android devices.
Enjoyed this article? Share it!