Aladdin: How Robin Williams' Son Zak Uses Film to Teach His Child
Zak Williams, son of the late Robin Williams, is using one of his father's most beloved films in Aladdin (1992) to teach his own son, McLaurin "Mickey" Clement, about his grandfather Aladdin's success spawned numerous animated sequels and television series. Disney released a live-action remake in 2019 with Will Smith in the role of Genie. Zak spoke to People about Mickey's learning about who Robin is through the animated film. "His mom [Olivia June] and I have certainly considered how we want to introduce my son's grandfather, my dad, into his life," Zak said. "Certainly through his movies and the cartoons that he participated in is a great way. My son, Mickey, points at a cel that we have in his room of my dad that has the genie from Aladdin." Robin provided the voice of the genie in the first and third films. Zak said he planned to continue to expose Mickey to more of Robin's work to get to know him better.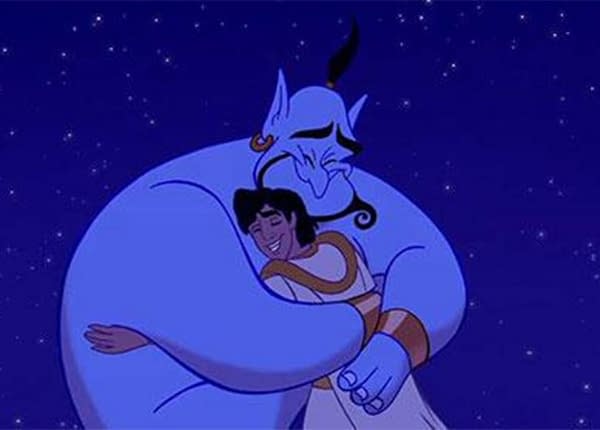 How Zak Uses Aladdin to Unravel Robin's Legacy to His Son
"He's got a collection of photos and animation cels throughout our home that he sees on a daily basis," Zak said. "I think it's being mindful and introducing the elements and stories about him slowly. We hope that we can celebrate the positive elements and his works and films in a way that there can be appreciation and acknowledgment of him both as an entertainer, but also as a family man, and parent and grandfather to my son. So, the key thing would be for us to introduce it slowly and meaningfully. Taking an opportunity to share stories and his values in a way that we hope can be appreciated and embodied." Since Robin's suicide in 2014, Zak became a mental health advocate serving on the Advisory Board of a new mental health program, Inseparable. If you or someone you know is considering suicide, please contact the National Suicide Prevention Lifeline at 1-800-273-TALK (8255), text "STRENGTH" to the Crisis Text Line at 741-741 or go to suicidepreventionlifeline.org.