'Alien' Celebrates 40th Anniversary with 4K HDR Special Release
As painful as it is to imaging that a full forty years have passed since Ridley Scott's masterpiece of science fiction horror, Alien, first appears on the big screen, we can ease that feeling knowing that 20th Century Fox is about to wow us with an all-new remastering into an UltraHD 4K HDR release.
The film was restored in 4K over the course of 2018 by 20th Century Fox at Company 3/Deluxe Entertainment Services Group, with the entire process being supervised by Scott himself.
There will be two versions of this release coming out as of April 23rd, the standard edition, and a Best Buy limited-edition steelbook. The full feature set of the release includes:
1979 Theatrical Version
2003 Director's Cut
2003 Audio Commentary by Ridley Scott and the Cast & Crew
1999 Audio Commentary by Ridley Scott (1979 Theatrical Version Only)
Final Theatrical Isolated Score – Dolby Digital 5.1 (1979 Theatrical Version Only)
Composer's Original Isolated Score – Dolby Digital 5.1 (1979 Theatrical Version Only)
Deleted Scenes
Granted it's a bit of a disappointment that they didn't go that final step to bring the audio mix into Atmos, since the atmospheric effects on the planet and on the Nostromo would have made for a perfect reference showcase disc.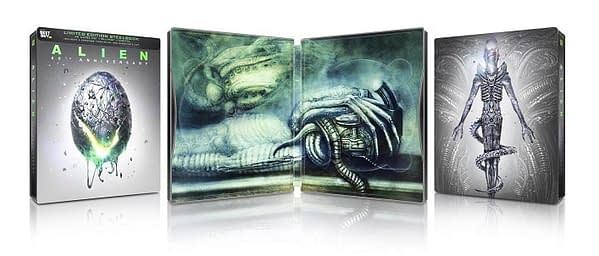 That Alien is a classic of its own accord, standing alongside the likes of Blade Runner and 2001 and having this on the shelf alongside the recent 4K editions of the others will make for a basis for any high-grade cinephile collection.
ALIEN 40th Anniversary 4K ULTRA HD™ & Blu-ray Specs
Street Date: April 23, 2019
Screen Format: Widescreen 16:9 (2.40:1)
Audio (4K Ultra HD™): English DTS-HD-MA 5.1 / English DTS-HD-MA 4.1 (Theatrical Version Only) /
English Surround DTS-HD-MA2 2.0 / Spanish DD 5.1 / French DTS 5.1
Audio (Blu-ray): English DTS-HD-MA 5.1 / English Dolby Digital 4.1 (Theatrical Version Only) /
English Surround Dolby Digital 2.0 / Spanish DD 5.1 / French DTS 5.1
Subtitles: English / Spanish / French
U.S. Rating: R for sci-fi violence, gore and language