Alien Day Celebration Coming From Mondo With Limited Edition Items
Alien Day is tomorrow, and with it always comes some awesome merchandise that we fans and collectors can sink our extendable jaws into. This year Mondo will have new pins, tiki mugs, and shirts available to collect, going on sale on their webstore today. The new items include a new Jonesy shirt in both white and black, new enamel pins by 100% Soft, and two new variants of their Alien Queen and Alien Egg tiki mugs and shooters. Since Alien Day falls this Sunday, Mondo has gone ahead and released everything in the new collection now and is letting us celebrate a little early. You can but the collection here.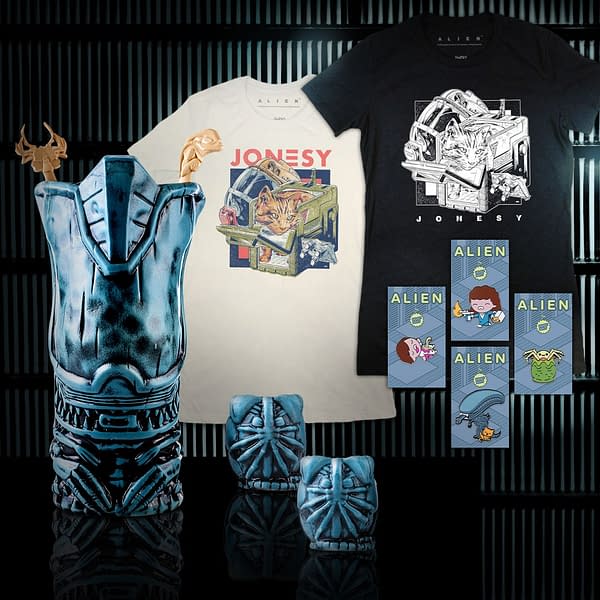 Mondo and Alien Go Together Like PB&J
"Each April we celebrate one of the greatest characters in film history – Ellen Ripley, last survivor of the Nostromo and LV-426. We also celebrate the xenomorphs, face-huggers, the Alien Queen, and the collective work of directors Ridley Scott and James Cameron, screenwriter Dan O'Bannon, artist H.R. Giger, and decades of genre-defying work by legendary cast members and creators. And we also celebrate Jonesy the Cat. This year, Alien Day (4/26) lands on a Sunday, so we're kicking the festivities off a little early with two new variants of the Alien Queen Tiki and Alien Egg Shooters, a brand-new set of ALIEN pins from 100% Soft, and a returning favorite now in women's sizes."
The Tiki Mugs come in to different glazeways- Acid Blood and Airlock. The Alien Queen holds around 22 oz. of liquid, and a neat idea Mondo points out, can also be used as planters. The shooters come in the same glazeways. The Jonesy shirt has been released before, but will now be available in both unisex and women's cuts. Both colors are super cool, although I prefer the black version.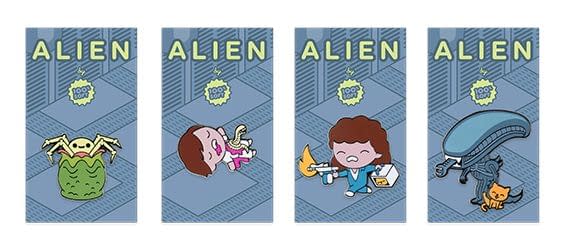 My favorite item available form Mondo though are these ridiculously cute enamel pins from 100% Soft. The egg and facehugger, chestburster, Ripley with flamethrower, and Xenomorph and Jonesy are all available to order for $10 a pin. As an Alien fan, I will be ordering each and everyone of these.