Aliens Abducted My Parents…Temblay & Buster on Comedy & Chemistry
Emma Tremblay and Jacob Buster talk to Bleeding Cool about their sci-fi comedy Aliens Abducted My Parents and Now I Feel Kinda Left Out.
---
Emma Tremblay and Jacob Buster are young stars on the way up. Since making her feature debut in 2013's Elysium, the actress has been a regular on film and television, most notably in 2014's The Giver, Fox's Wayward Pines, The CW's Supergirl, and Netflix's The Midnight Club. Since making his debut in the Brigham Young University 2012 TV series The Writers' Block, Buster's found similar success, most notably on USA Network's Suits and Colony and Showtime's supernatural horror drama Let the Right One In. Both star in the indie film from Jespers Comet Films' Aliens Abducted My Parents and Now I Feel Kinda Left Out, promoting for Sundance. The film follows Itsy (Tremblay), an inspiring writer and new student at a high school who gets to know her research subject Calvin (Buster), an outcast who dreams of space to be reunited with his parents, who, as the title suggests, might be abducted by extraterrestrial life. The two spoke to Bleeding Cool about the Jake Van Wagoner film, how the film appealed to them, and if they knew anyone like their characters.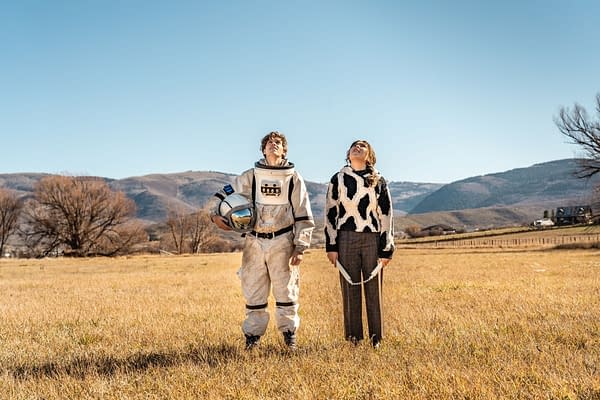 Entering Calvin's World of 'Aliens Abducted My Parents and Now I Feel Kinda Left Out'
Bleeding Cool: What intrigued you about Aliens Abducted My Parents…?
Buster: What intrigued me was that it wasn't a one-note story. There were so many different aspects that made it feel alive. The characters were going through a lot and trying to figure out what was happening in this crazy world.
Tremblay: It was the script. When I read it for the first time, I was like, "This is different. This is not like anything I've read before." It was the first time I could go through the whole thing in one sitting. My attention span has never been able to do that, but this movie kept me on. It was such a fun script.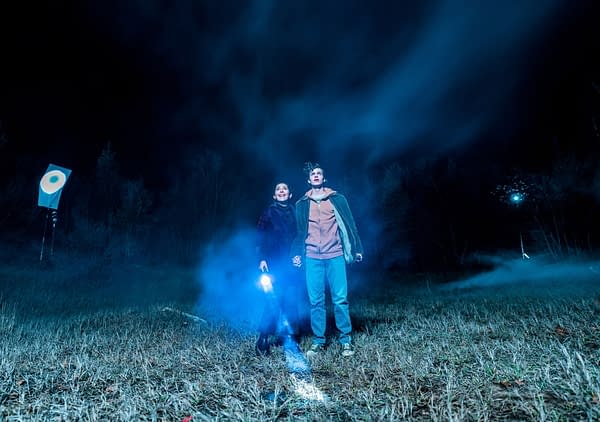 What made Itsy and Calvin work so well together? Did you guys hang out before filming to build a rapport?
Buster: When Emma first flew in, I lived here in Utah. We got a little bit of lunch with Jake and Austin, and we all got to sit down. We talked a little bit before filming. We didn't have to do much to build a connection. It sparked up and in it made filming fun and easy.
Tremblay: I had lunch with them right after the big travel day. I was like, "I want to go sleep," but I met everyone. It was just like, "These people are awesome." We all clicked immediately, and I was so excited to get to the first day. It was nice, like not meeting everyone on the first day of work, but being able to know them and spend time with them before we started filming. That added a lot to it. Jacob and I were so similar in our ways. It was easy to work with him.
Any figures within your own lives that helped mold your characters?
Buster: Yeah, 100 percent. I have a few friends who are a little out there but love it. They own it, and I was hanging out with them more often. I was trying to catch a little bit of who they are as a person and put it into Calvin because it's a beautiful trait.
Tremblay: My boyfriend was my muse because I was so giddy about being with him that it was so easy to transfer that into Itsy to see him being so giddy around Calvin. That was one big thing for me. Also, my Itsy playlist on Spotify was a big thing for me, getting into character that way.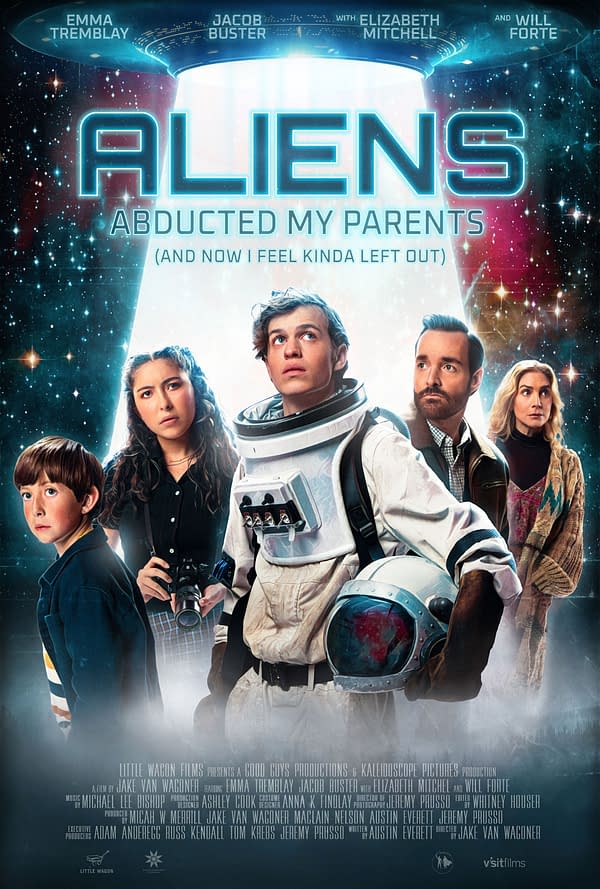 Aliens Abducted My Parents… also stars Will Forte, Elizabeth Mitchell, Matt Biedel, Hailey Smith, Landry Townsend, Kenneth Cummins, and Thomas Cummins. You can check out our interview with Forte and Mitchell here.