Anaconda fans: your time has come. 88 Films in the UK will release a Blu-ray box set of all four films in the series (there is four?!?) on June 10th. Only 3000 of this set are being produced, which will include the four films in the series: Anaconda, Anacondas: The Hunt for the Blood Orchid, Anaconda 3: Offspring and Anacondas: Trail of Blood. It features a booklet with digipak packaging, featuring new artwork by artist Jeremy Pailler. Hosts of new special features are also included as part of the set. I seriously did not know there were more than two of these, but the first two were dumb fun.
Check out the box and more details down below.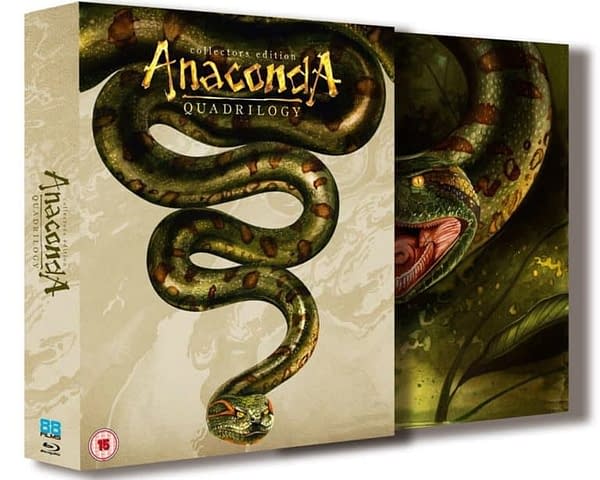 Beginning with the 1997 cult classic that rocked movie-goers and encouraged a new generation of thrill-seekers to avoid a backpacking trip to the wilds of Latin America, the ANACONDA series hits Blu-ray from 88 Films with each film restored in gloriously gory HD. For the original film, starring Oscar winner Jon Voight, pop sensation J-Lo, Ice Cube, Eric Stoltz and Owen Wilson, audiences were introduced to a group of hunted and helpless explorers who encounter a legendary giant reptile whilst sailing upstream in the legendary wilds of Colombia's epic rainforest. ANACONDA wrapped itself around audiences over two decades ago and is sure to slither its way into the hearts of horror buffs of a new generation.
For ANACONDAS: THE HUNT FOR THE BLOOD ORCHID (2004), Dwight Little (HALLOWEEN 4: THE RETURN OF MICHAEL MYERS) gave audiences not just one giant carnivorous serpent but an entire gang of them! Adding even more fright to the formula, the sequel ups the stakes of survival – and was followed by ANACONDA 3: OFFSPRING (2008) in which cult legend David Hasselhoff attempts to avoid becoming a snake snack whilst discovering that scientific misdeeds has resulted in the creation of an inflated and very dangerous new forked-tongue antagonist. Finally comes ANACONDAS: TRAIL OF BLOOD (2009), headlined by the great John Rhys-Davis and packing-in more squish and screams than ever before!
Enjoyed this article? Share it!