'Aquaman' Swims Past $1 Billion at Global Box Office
Judging by the steady growth of Warner Bros. Pictures Aquaman, we knew the Atlantean tale was likely to be hitting the giant box office milestone of $1 billion from the global market. As of today, that's happened, making Aquaman the second title in the DCEU to do so.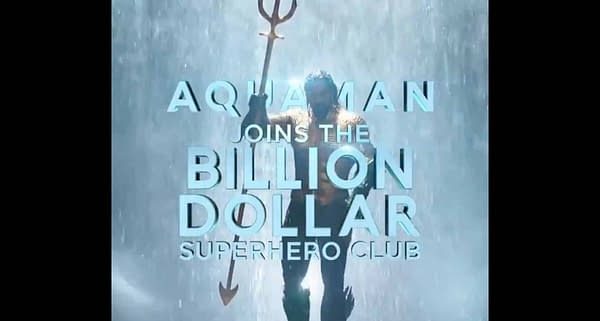 That factoid could be skewed–it really depends on if you, as a fan, believe that Christopher Nolan's Dark Knight films are technically part of the DCEU (which theoretically started with Man Of Steel) because The Dark Knight Rises was the last DC Comics-based film to hit the $1 billion mark.
Aquaman director James Wan commented on the occasion:
"Firstly, Massive love and thank you to the fans and audiences around the world. Humbled by the way you've embraced Aquaman and how it has resonated on a global scale. I'll forever be indebted to Jason for turning Aquaman into one of the coolest, cinematic superheroes ever, and becoming the gold standard for this character for generations to come. Huge thank you to the amazing cast — Amber, Patrick, Nicole, Yahya, Willem, Temuera, Dolph, Ludi — for breathing life into our beloved characters. And, of course, this movie wouldn't be what it is without the incredible achievement of everyone involved, from the heads of department to every single crew member, who demanded utmost excellence in helping design and create this cinematic experience."
Ron Sanders, Warner Bros. Pictures Worldwide Distribution President added:
"We're thrilled audiences around the world have embraced Aquaman in such a big, big way. Jason, the filmmakers and the team at DC have delivered a film that people love, and we are so appreciative of their support."
Aquaman is currently playing in theaters across the globe, and is scheduled to splash down in Japan next week.