This article contains spoilers for the Arrow season six episode – Brothers in Arms.
.
.
.
.
.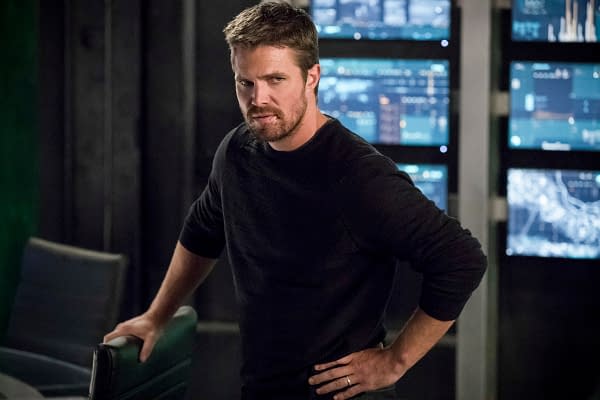 The episode starts with Dinah Drake (Juliana Harkavy) leading a group of cops she knows that aren't on the take after Anatoly Knyazev (David Nykl). Included in that mix is Nick Anastas (Evan Roderick) who is now dating Curtis Holt (Echo Kellum). One of the cops worries about not having back-up, but Dinah says they're covered. Green Arrow (Stephen Amell) and Spartan (David Ramsey) are there as well and the take down goes well. Anatoly is taken into custody but tells Oliver that he's fooling himself, Ricardo Diaz (Kirk Acevedo) already has control of the city. District Attorney Sam Armand (Pej Vahdat) shows up and kicks them all loose, showing Oliver that he too is controlled by Diaz.
Meanwhile tension is building between Oliver and Diggle. John is waiting to take back over as Green Arrow, but when Oliver finally tells him he's not giving it back, the words say everything is fine, but the tension increases. With Anatoly out, he and Diaz pay a visit to one of the cops who was part of the raid and kills him. Dinah and Curtis find a safe house and pull all the other cops together for protection. Curtis finds out that Nick has a hatred for vigilantes, which reminds him of why his ex-husband left him in the first place. Diggle goes and talks to Lyla (Audrie Marie Anderson) and admits that the Green Arrow thing is upsetting him more than he expected. She tells him that he needs to figure out why. Oliver pulls D.A. Armand and Captain Hill (Tina Huang) into his office and confronts them about being on Diaz's payroll. They admit it, with Hill having her family threatened and Armand having a son dealing with cancer. Oliver offers to help them, but they refuses, saying that he can't be Diaz. So Oliver fires them both.
Back at the bunker, Oliver goes to Diggle and apologizes. He explains why he doesn't want to stop being Green Arrow and it seems to ease the situation. Until Felicity (Emily Bett Rickards) finds one of Diaz's vertigo dealers. They go to question him and Diggle pushes the guy, threatening to shoot him and Oliver tells him to stand down. While this is happening the dealers girlfriend shoots him, saying her loyalty is to Diaz. Back at the bunker, Oliver and Diggle argue and John calls Oliver out on his way being the only way. Felicity tries to calm them down and Diggle goes to get air, which ends up being back to Lyla to talk. She helps him realize what is really bothering him. When he returns to the Bunker, he talks to Oliver and tells him that he thinks Oliver has become a better man, but has pushed everyone away with his leadership and is the reason so many people are dead. Oliver pushes back, calling John out on lying to everyone about his injury. It goes back and forth until Oliver comments about his trail of dead bodies doesn't include his own brother. Diggle punches Oliver, who then punches back and the fight is on. They smack each other around really good until Felicity breaks them up. Once things are calm again, she tells them she's found the vertigo lab.
Laurel-2 (Katie Cassidy) is staying around the apartment and Quentin (Paul Blackthorne) suggest her finding a job, and gives her Laurel-1's old law books to read. She tries to get information on the cop location, but Quentin isn't giving up anything. Diaz comes by to remind her of who she really is… and to bring her dinner. At the safe house, Curtis is trying to deal with finding out Nick hates vigilantes when the perimeter is breached from three sides. Turns out Diaz got to one of the cops and he shoots at Dinah, but Curtis leaps in the way and takes the bullet. Dinah takes out the bad cop and gets everyone ready to fight back, but tells Nick to take care of Curtis. Nick opens Curtis' jacket to find his Mr. Terrific costume. They fight back, and finally escape when Dinah uses her scream to make an exit through a wall.
Green Arrow and Spartan put there differences aside and take out the vertigo lab. Working well together and finally blowing up the entire building. But when they get back to the Bunker, Diggle tells Oliver that he's spread to thin and his insisting on doing things his way is getting people hurt and killed. And he can't follow him anymore. John leaves the team. Nick goes to visit Curtis, telling Dinah that she, himself and all the cops not under Diaz where fired by Hill before she cleaned out her desk. He then tells Curtis that he doesn't know how he feels about vigilantes, but he does know how he feels about Curtis. Which is good. Armand and Hill have a press conference and accuse Oliver of firing them to obstruct justice in the case against him. And Laurel meets with Diaz and we find out the obstruction accusation was Laurel's idea. Diaz shows her that he has a vial of vertigo left, meaning he can start making more with it… and then they kiss.
So… there is no more team Arrow. It's just Green Arrow with Felicity helping him and it looks like he might lose her too next week. Diggle is thinking of working for ARGUS, Dinah is off the force, Rene is still recovering. And now Oliver has even more legal troubles to deal with. And there are still six episodes left in the season… how much worse can it get for Oliver? I was a bit worried about this episode going in. The whole idea that Diggle would be upset because of a costume didn't make sense, and sure enough that wasn't the deep down reason. But I'm not sure I buy the reason they gave. It still doesn't ring true. John isn't the type to let things fester. He's always been Oliver's voice of reason. To have this build up so much so quickly really seems out of character. But, in John's defense, Oliver doesn't really think things through like with the firing of Armand and Hill. Anyone watching the real news these days had to know that was going to come back and bite him. We'll have to see if the writers can bring this all around over the next six episodes.
https://youtu.be/icaiCAtVWeE
Enjoyed this article? Share it!