This article contains spoilers for the Arrow season six episode – Shifting Allegiances.
.
.
.
.
.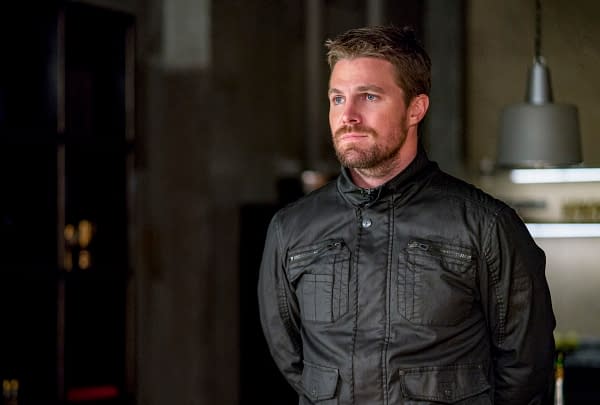 The most recent episode of Arrow featured the return to battle for Rene Ramirez (Rick Gonzalez), or at least an attempt to return to battle. Everyone had a plan of their own and with Diaz (Kirk Acevedo) having lost out on venom, NTA figured that he'd try to get a new drug supply from the gang he used to run. Meanwhile John Diggle (David Ramsey) is now with ARGUS and gets intel on a weapons deal involving the same gang and a player from the Quadrant, Lydia Cassamento (Gina Ravera). Except the actual deal is a setup to take out the rival gang and NTA gets caught in the crossfire. When it comes time for Wild Dog to shoot, he freezes and Dinah (Juliana Harkavy) saves him but they get trapped and Diggle drops in to rescue them. Back at their bunker, Diggle apologizes for what happened between the two teams, which goes over well. They realizes that the Quadrant aren't moving weapons into Star City, but through it, using the city as a distribution point. Rene realizes he is too worried about getting hurt and leaving his daughter alone to be any good in the field. So he steps out. ARGUS and NTA work together to destroy the trucks carrying the weapons and put a dent into the Quardrant / Diaz's plan. Later, Dinah and Curtis (Echo Kellum) visit Rene to see how he's doing and Zoey (Eliza Faria) admits she knows that her father is Wild Dog and wants him to keep helping the city.
Over at city hall, Quentin Lance (Paul Blackthorne) is the new mayor and Diaz wants a meeting with him, so he has Laurel (Katie Cassidy) set it up. Diaz wants Quentin to sign an executive order selling a building to him. Quentin refuses and of course Diaz threatens him and walks off with Laurel. She later goes by his office to see if Quentin has signed, he hasn't and tells her to not only leave but to move out of his apartment. But at the apartment they talk again and she admits that she is scared of Diaz, that he is a monster and willing to do anything. He signs the order and they agree to protect each other. But when she brings Diaz the order, he tears off the signature, claiming all he cared about was knowing if he could trust the new Mayor.
While all of this is going on, Oliver (Stephen Amell) makes a play to bring back an old ally, Anatoly (David Nykl). Oliver goes to Russia and pays a debt to the Bratva and in doing so gets Anatoly cleared where he can go home. He then goes to visit Anatoly, taking out all of his men quietly, then talking to him about how he has always claimed to be a man of honor, but Diaz has no honor. Anatoly still holds a grudge and stuns Oliver, telling him that everything that has happened is because Oliver has acted without honor. He takes Oliver to Diaz where the guy starts beating Oliver around while he's still chained. Anatoly complains about that, and Diaz has Oliver freed and offers to fight him one-on-one, winner gets the city. Oliver agrees and they fight. It's pretty brutal, but Oliver get Diaz into a hold and tells him to yield or he'll snap Diaz's neck. Diaz pulls a knife and stabs Oliver instead. Anatoly visits Oliver, questions if all of this was just to prove that Diaz has no honor. He gives Oliver stuff for his wounds and has a plan to get Oliver out of there, but before they can do that, Diaz has Oliver brought to him and tells him he can stay in the city… in jail. The police come in and Oliver is arrested. The news talks about his bail being revoked and his trial moved up. And that's where we're going next week.
There were some real good moments in this episode. When Rene is walking towards his apartment and finds out that Zoey is waiting for him, he races inside to see his daughter. It was subtle but a real nice moment. Mr. Terrific had a moment to shine, which was nice to see. It was good that they didn't just have Rene jump right back in without consequences, but it also seemed like we just had a similar thing with Diggle. The whole thing with Oliver and Anatoly felt like old school Arrow, including Oliver having a plan that would potentially get himself killed. It was also the first time it seemed like Oliver was making a dent in Diaz's plans. If Oliver succeeded with Anatoly, Quentin is pulling Laurel away and the Quadrant won't be happy about the ARGUS / NTA raid, this might be the first hit on Diaz even though he played the legal trump card at the end.
Next week Oliver is on trial and we get the return of Colin Donnell aka Tommy Merlyn.
https://youtu.be/4Y0Z6881b1A
Enjoyed this article? Share it!