NYCC: How East And West Came Together For 'Batman Ninja'
By Dimitrios Haritos
The New York Comic Con panel for the upcoming Japanese-produced Batman Ninja anime featured an all star panel of some of Japan's best in the business. Screenwriter Kazuki Nakashima (Kill La Kill), director Jumpei Mizusaki (JoJo's Bizarre Adventure), character designer Takashi Okazaki (Afro Samurai), with an interpreter on hand and the English-language screenwriters Leo Chu and Eric Garcia (Supa Ninjas).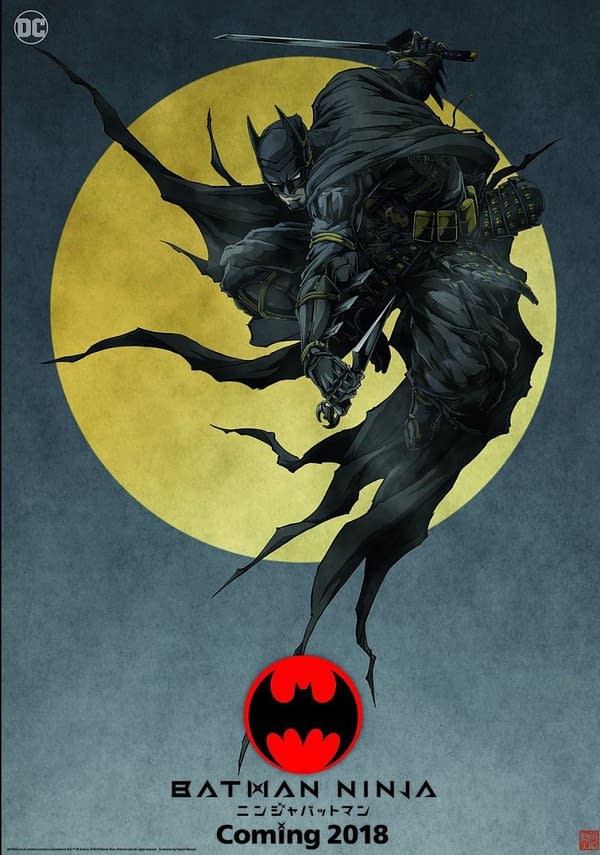 Batman Ninja, will feature many heroes and villians of Batman traveling through time to do battle in time. Stretching from modern day to the middle ages of Japan. The creators all discussed how they wanted to have a balance of eastern and western sensibilities and that by having Batman serve as the western the eastern would flow naturally by his surroundings. They strived to keep the personalities of each characters the same and not make them Japanese versions of the characters. Design wise, they didn't want to go overboard so it would appeal to all audiences.When animating the fight scenes live action actors were used to show a more real and fluid motion. Mizusaki talked about filming it first to get it how he envisioned it and then having the animators match the live action shots.
The panel then turned to the Chu and Garcia. "It was very difficult" Chu explained, and that the crew in Japan make the movie and they have to go back and make it more cohesive for the US audiences and that this is really Batman through Japanese eyes. The style of the film has a meshed tech and a Futile Japan feel to it. They are currently keeping the voice cast a secret and hope to unveil it soon. They showed some footage of the film which had a lot of action and Batman and Joker with katanas fighting on a rooftop in the middle ages of Japan. It was then turned over to a Q&A for the last 15 minutes of the panel.
Dimitrios Haritos is a contributor for Bleeding Cool as well as a Cosplayer who loves all things comics and a founding member of the Long Island Ghostbusters.
You can find him on twitter @ectoman_913