Posted in: Interview, Movies, Warner Bros, WB Animation, WonderCon | Tagged: Batman the doom that came to gotham, dc, jace ricci, wb animation, WB Home Entertainment
---
Batman: The Doom That Came To Gotham Screenwriter Jace Ricci
Batman: The Doom That Came To Gotham screenwriter Jace Ricci discusses his inspirations for adapting this story into an animated feature at the WonderCon 2023 world premiere.
---
Batman: The Doom That Came To Gotham premiered at WonderCon 2023 and shook the foundation of the Anaheim Convention Center. Screenwriter Jace Ricci (Teen Titans Go! and DC Super Hero Girls: Mayhem in the Multiverse) took on the daunting task of adapting the comic book series by Mike Mignola, Richard Pace, and Troy Nixey for the big screen. Batman's (David Giuntoli) rational mind and unparalleled fighting skills are put to the ultimate test when an ancient force threatens his world and everyone he holds dear. Currently available to purchase Digitally and on 4K Ultra HD Blu-ray Combo Pack and Blu-ray from Warner Bros. Discovery Home Entertainment, The all-new, feature-length DC Animated Movie puts Batman up against Lovecraftian supernatural forces threatening the sheer existence of Gotham as he's aided and confronted along the way by reimagined versions of his well-known allies and enemies, including Green Arrow, Ra's al Ghul, Mr. Freeze, Killer Croc, Two-Face, James Gordon and more. Before the premiere, Ricci chatted with Bleeding Cool about how he used the original story and Lovecraft books to help him capture the mood for this movie.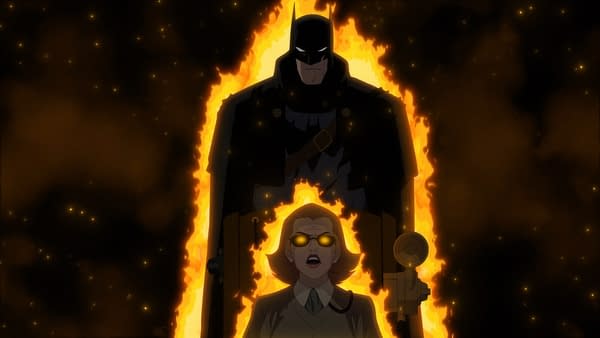 Were you familiar with The Doom That Came To Gotham by Magnolia, Pace, and Nixey when you first started working on this project?
Jace Ricci: I'm going to say, short answer, no. The long answer was it's weird. I'm a huge Batman fan, and I'm also a huge horror fan, and I love Lovecraft. Sometimes you just have these blind spots, and somehow I don't know what it was; maybe I'd seen an image of it before. It never really registered with me until Jim Krieg (Batman: Gotham by Gaslight), the producer, approached me with the book, and I was like, Wait, wait, that's what they did? So full disclosure, it's going to make me sound like maybe not my credibility, but also maybe it'll up my honesty factor.
What about The Lurker in the Threshold by Derleth and Lovecraft, which Doom was inspired by? Were you familiar with that story when you started this project?
Jace Ricci: Actually, I'm looking at a book, a copy of it right now. I read it a long time ago, pretended I understood it because I was young, and I think I still pretend. And then when this project came up, I was like, Oh, I better revisit that. I consulted more H.P. Lovecraft books and stuff than Batman when approaching the script because, to me, I felt pretty familiar with Batman, but I wanted this to be equal parts a Batman adaptation or a Batman movie in a Lovecraft movie. There are certain things that I wanted to hit Lovecraft style-wise that were in the book, but make sure that we were doing them justice by bringing them to the film.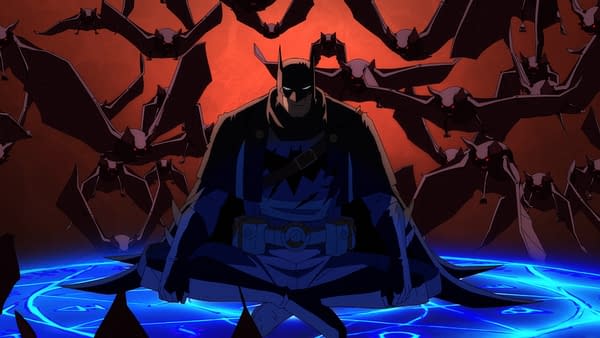 What areas or is there a specific scene or character that you did, plus up from the original Batman: The Doom That Came To Gotham?
Jace Ricci: I think Lovecraft is an amazing writer, but I think what is most memorable was the world that he created in that the tension and the mood and atmosphere he created rather than an individual character, you know. The main characters in a lot of his books are very passive. They are telling you the story of how they're falling deeper and deeper into madness. And then this horrible ending. I wanted to pour over that sense of dread. In the end, it all comes together. That was something that was important to port along. The Batman character arc, which was in the book, I felt like we pulled it up a little more. Within the graphic novel was that Batman is a man of science, as always, but it's until he accepts that there is a greater power and loses a hold of anything that he has any chance to win. The whole thing is a journey about him clutching on to that science and the region and reason and logic as hard as he can until the very end. As the horror builds up, he has to let that go—the two different stories story types kind of fit together in that way.
Dig our conversation on the Red Carpet at the premiere during WonderCon 2023:
Batman: The Doom That Came To Gotham, is currently available to purchase Digitally and on 4K Ultra HD Blu-ray Combo Pack and Blu-ray from Warner Bros. Discovery Home Entertainment.
---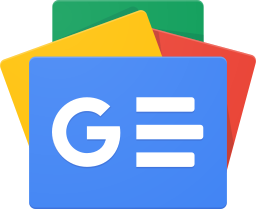 Stay up-to-date and support the site by following Bleeding Cool on Google News today!