Australian retailer BlackMilk Clothing just released a lookbook for their upcoming clothing line release.  The company is no stranger to themed licensed releases, having previously worked with DC Comics and other notable names.
The newest line just happens to be Labyrinth, that amazing fantasy classic from Jim Henson studios released in 1986 starring Jennifer Connelly and the late great David Bowie. We can't get over how absolutely stunning the themed items are, we'd gladly solve the puzzle if any of these pieces were at the center.
Through dangers untold and hardships unnumbered, just take a gander at this GORGEOUS set that contains dresses, tunics, dresses, kimono, and of course leggings: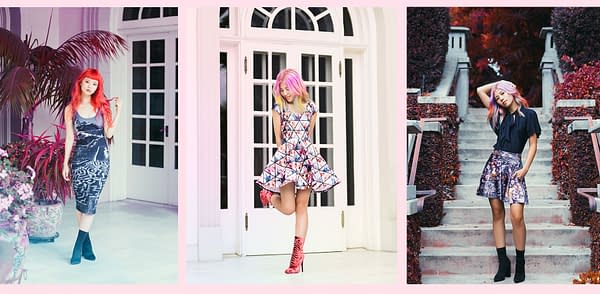 I'm not saying I need everything, but I think I need everything. The imagery of barn owl, Sir Didymus, the wallclock, never ending staircases from the "Within You" scene, just absolutely gorgeous.
The original film featured tons of amazing designs from artists Brian and Wendy Froud, including the character of Toby who happened to be played by the Froud's son Toby.  Labyrinth continues to be a mainstay of the lush '80s fantasy classics, sharing the pedestal with The Dark Crystal, Ladyhawke, and Excalibur (although, of course, one of those is NOT suitable for children.)
With the passing of icon David Bowie, anything showing the Starman's visage has become a hot commodity. Maybe that plays into the choice to feature the artist so predominantly in this line. We're still a little disappointed there isn't a pair of leggings a-la Goblin King Jareth's remarkable…..um….package.  Also, maybe just a TAD more glitter.
The line is set for retail release via BlackMilk's website on October 10th at 10 a.m. Australian time. You can sign up for updates here.
Enjoyed this article? Share it!