It's a Marvel movie. Moreover, it's a Marvel movie called Captain Marvel. On that basis alone, it has the duty to be the Marvellest of Marvel movies.
You can read Kaitlyn Booth's review here. I'll write something else shortly too. But the biggest two questions I was asked coming out of a screening last night were a) are there post-credit scenes and b) can you take your eight-year-old to see it?
Firstly, yes, a mid-credit scene that ties into Avengers: Endgame and a post-credit scene that ties into Avengers Assemble. The first is dramatic, the second comedic – but it also addresses a tangling plotline in the movie, and you will be incomplete inside your heart without it.
So, sit through the credits. You'll also see a bevvy of comic book creators thanked, everyone from Neal Adams to Warren Ellis to Jim Starlin to Brian Bendis to Jamie McKelvie.
But after Stan, the biggest comics onscreen credit is for Kelly Sue DeConnick and David Lopez who revived the Ms Marvel character as Captain Marvel, and who both get a big shoutout near the beginning of the credits, thanked for their significant contributions.
Stan Lee gets a thanks right at the beginning of the movie which may well leave you with a lump on your throat, and gets a very funny nineties-style cameo on the train which is one for the nerdiest of Stan Lee fans. Keep an eye out for Kelly Sue DeConnick's own cameo on the train station.
As for taking kids, yes. Not only is it suitable for eight-year-olds but it may be mandatory. There is violence, but it's of a lower level in comparable Marvel movies, and definitely of the fantasy spacegun variety. But also, it may be the kind of movie your eight-year-old has been waiting for…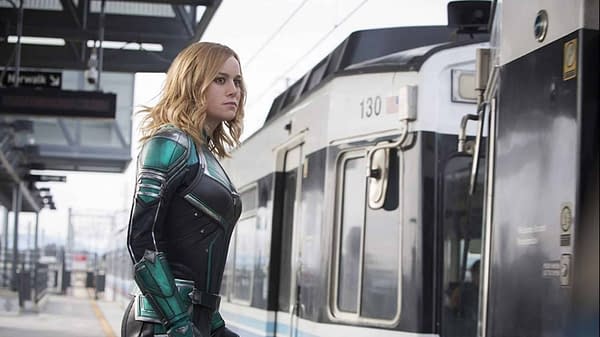 Enjoyed this article? Share it!