Christopher McQuarrie Can't Say Much About 'Top Gun: Maverick', But-
So what exactly *CAN* Christopher McQuarrie say about Top Gun: Maverick, anyway?
According to our friends over at Collider–
"It's got planes in it."
Well, now that THAT'S out the way….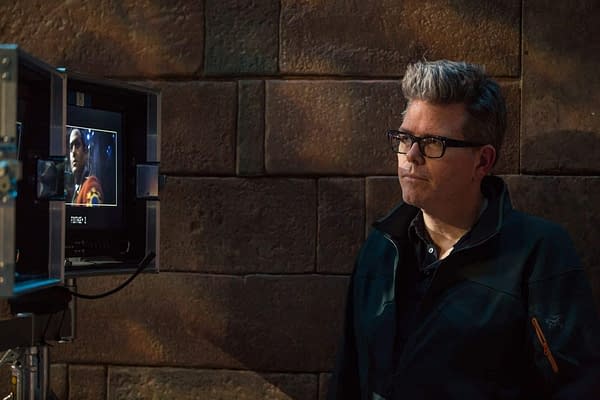 In a lengthy (and enviable) sit down with Collider EiC Steven Weintraub, Christopher McQuarrie goes in-depth about the Mission: Impossible franchise, working with Tom Cruise, and how similar directing is to parenting. It is well worth a read, especially if you miss McQuarrie being active on Twitter, dolling out his words of filmmaking wisdom.
But Weintraub does do his damnedest to get us answers about the upcoming Top Gun sequel film:
Collider: Top Gun question. What can you actually say about the sequel? Are you allowed to say anything?

MCQUARRIE: It is called Top Gun: Maverick. I can't think of anything … Like I said, there are planes in it. Maverick is in it.

Collider: Obviously Joseph's directing. Can you say what your contributions are to the script/story?

MCQUARRIE: I'm a compass on the movie, I think more than anything else. It was all there. It was all there when I came on board. It was such a long process getting there. I met on Top Gun years ago. There was rumors that I was on the project because I had met with Tony Scott back when he was attached to the movie. There was a moment where I was going to do it then. The way into the movie was just seemingly insurmountable. The movie is so iconic. It has permeated the culture so unbelievably that it's very hard to find people that haven't seen Top Gun. I found one. I found a guy. I said, "Don't watch it." He said, "Why?" We go, "Because we want you at the test screening. Don't watch the movie. You're the perfect specimen. There's only one of you."

What was really interesting is coming into it in those early conversations and talking about what is Top Gun, really. Because there's what we remember Top Gun to be and then there's what Top Gun is when you sit down and watch it in a completely objective way, or try to watch it as objectively as you can. I came to the process very late after they'd been through many iterations of … It had been through a lot of writers, they had been developing the script, and they have a really, really good story.

I came to it with a clearer head and I also came to it off of this movie. That was my head space. It would be like if Joe Kosinski came in to the editing room on this movie and went, "You're fine, dude. You're okay." Because we thought we had made a train wreck out of the third act. It just helps to have somebody to come in and say, "You're all right. You're actually making a really good movie and it's okay. Things you think you need you don't need." That's what my job … I'm a security blanket.
We're pretty curious to see how Top Gun: Maverick turns out, for sure. It's currently slated for a June 26th 2020 release date.