Today sees the release of Spider-Man: Far From Home. Where I am typing I can see the Shard, so it's not too far home for me. But, sitting in a mixed audience of families, geeks like me who have to see the film as soon as possible after release but midnight last night was too late, and students trying to avoid going to school, it was clear that the audiences got to see a different film.
Those familiar with Spider-Man comic/cartoons/games knew something was coming, They expected it, they anticipated it and they got it.
Those that were not big fans of the comics/cartoons/games were not. They got a shocking twist that everyone else expected. Which is why I got gasps in some parts of the audience and celebratory cheers in the other.
When people make adaptations of The Strange Case of Dr Jekyll and Mr Hyde, it's hard to replicate the shock of the book, where people don't know the reveal that Hyde and Jekyll are the same man. Well, Spider-Man: From Home is like a Jekyll/Hyde movie where half the audience have never heard of Robert Louis Stevenson's novella or its many adaptations.
Is it half? Let us know in your own cinema audience what the reaction is and how it divides…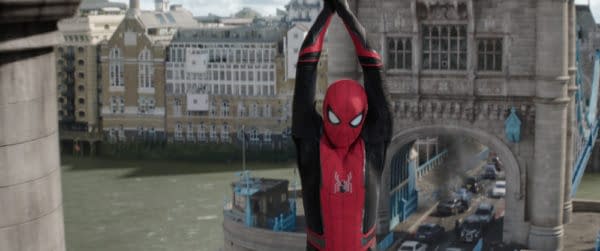 Spider-Man: Far From Home, co-produced by Columbia Pictures and Marvel Studios, and distributed by Sony Pictures Releasing is the twenty-third film in the Marvel Cinematic Universe. The film is directed by Jon Watts, written by Chris McKenna and Erik Sommers, and stars Tom Holland as Peter Parker / Spider-Man, alongside Samuel L. Jackson, Zendaya, Cobie Smulders, Jon Favreau, J. B. Smoove, Jacob Batalon, Martin Starr, Marisa Tomei, and Jake Gyllenhaal. In Spider-Man: Far From Home, Parker is recruited by Nick Fury and Mysterio to face elemental threats from another dimension while he is on a school trip to Europe. Spider-Man: Far From Home is in cinemas from today.
Enjoyed this article? Share it!