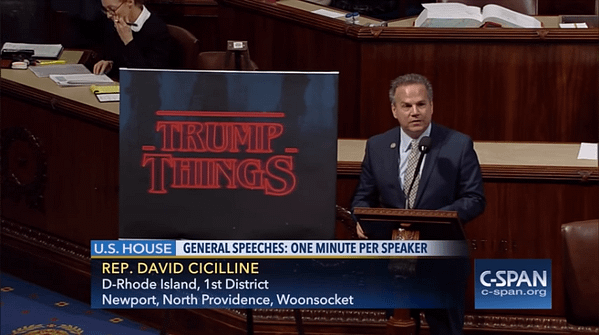 If you had any lingering doubts that reality has become indistinguishable from a fictional television show, Democratic Congressman David Cicilline of Rhode Island's first district is looking to remove them. Representative Cicilline used a one minute speech on the House floor today to shoehorn in as many Stranger Things references as possible about the Trump administration, while standing next to a display reading "Trump Things" in the style of the supernatural Netflix drama's title logo.
"Mr. Speaker, like the main characters in Stranger Things, we are now stuck in the Upside Down," Cicilline began his speech before reading off a litany of Trump administration offenses. "Mr. Speaker, Mornings might be for coffee and contemplation, but Chief Jim Hopper is not coming to rescue us. This is not a TV show. This is real life. And we have a President unlike and we have ever known. And like Mike, Lucas, Dustin, and Eleven, we must remain focused on the task at hand and hold this administration accountable so we can escape from our own version of the Upside Down."
The whole thing was broadcast on CSPAN, and you can watch it below:
Now, which brave representative will stand up and make some Westworld references to Congress? Kellyanne Conway is almost certainly a host.