Posted in: Exclusive, Horror, Interview, Movies | Tagged: Casper Van Dien, Corey Deshon, daughter, Elyse Dinh, exclusive, horror, Ian Alexander, interview, Vivien Ngô
---
Daughter Star Vivien Ngô on How Horror Film's Evokes Theatre Memories
Vivien Ngô (Queen Sugar) talks to Bleeding Cool about her first leading role in the family horror film from Dark Star Pictures in Daughter.
---
Vivien Ngô has accomplished a lot in her short career since bursting into the Hollywood scene in a series of shorts in 2015. She's since been a regular presence on TV, appearing on shows like Showtime's Shameless, CBS's NCIS: New Orleans, Snapchat's Class of Lies, and OWN's Queen Sugar. She also made her feature debut in Vertical Entertainment's Wyrm and will appear in the upcoming indie film The Accidental Getaway Driver. Ngô spoke with Bleeding Cool about her latest family horror thriller in Dark Star Pictures' Daughter, writer-director Corey Deshon, and co-stars Casper Van Dien, Elyse Dinh, and Ian Alexander. She plays a young woman (Sister) who is abducted into a bizarre family to become their new surrogate daughter.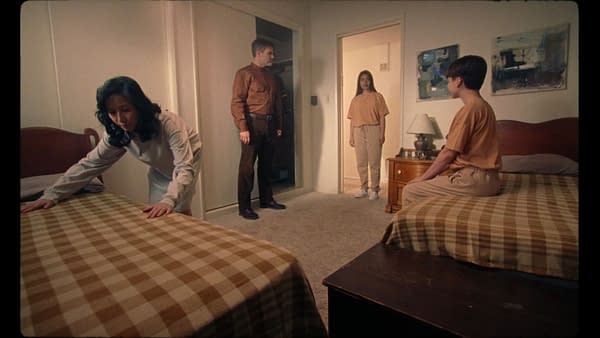 Collaborating with Corey Deshon on 'Daughter'
What intrigued you about 'Daughter?'
I was there from the beginning, and we started the project when writer and director Corey Deshon ranted about the state of the industry. We were itching to make something. He was incredible and went off to write a script specifically for me, Ian Alexander, and Elyse Dinh. We play Sister, Brother, and Mother [respectively]. Corey spits out a script two months later. When I got it, I had no idea what was going on. I knew we would be a family, and I was drawn into all the tension and dread over the script. I was like, "I have not done something like this. I'm ready for something like this."
There was so much intensity in the film. How do you get into that headspace?
I watched a lot of 'The Handmaid's Tale.' We spoke a lot about Elisabeth Moss's performance as June Osborne in terms of the character's quiet nature and also how she's so observant in that role. It shifted a little in the later seasons, but at that point, we also spoke about Yorgos Lanthimos' body of work a lot as well, specifically 'Dogtooth' (2009) and 'The Killing of a Sacred Deer' (2017). In terms of me getting into a headspace, I'm a little bit of a dark person. I've lived through some things. I don't know if you can call it a struggle. You put me in a garage and chained me up. I'm there [laughs]. That's what we started off mostly with. Most of the stuff in the first half of the shoot was in the garage. That was intense to be in that for six days.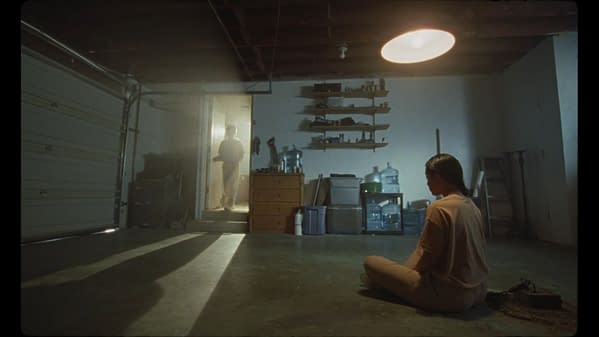 In most of the film, you share scenes with Elyse and Ian. How do you describe working with them?
It was fabulous. I met Elyse, actually, when she played my mother on a TV show ['Queen Sugar'], but it was interesting to have her be "Mother" to me [in 'Daughter']. I wouldn't say a loving mother, [but] twisted mother dynamic. To speak Vietnamese with her, as I've never done a scene work like that and with Elyse specifically. We did these long, drawn-out takes. I love that scene. I love the ability to "spar with her," as I like to call it, in some scenes.
[With Ian,] we were already friends with as well. They were quite young at the time, about 18 or 19. They're 21 now, but they had this innocence that Brother had. Brother's innocence was a little bit more demented. We had a sister-brother type of dynamic. To play that up was really fun. There was a lot of joy with the scenes with Ian because there were moments that were written where it was hard not to laugh. After all, it's so adorable. The Brother character doesn't understand how the world works. I had a great time. It was fun, and with Ian specifically, the sense of play with Elyse. It was playful but in an intense way that I love as an actor.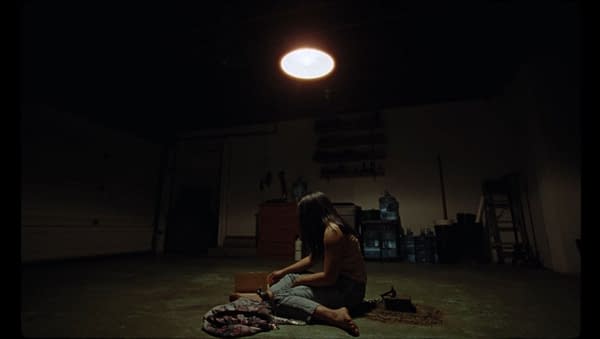 How was it with Casper?
[Casper] was the last major puzzle piece of the cast. He joined the project a month out. I did not meet him until the week before we started shooting. It was a prep rehearsal, and we did a read-through with the cast. He's a kind, goofy, and silly person. There's that trust, and you need that high level when you're doing intense scene work with somebody. He left briefly to work on something else and returned on day two of production. We didn't do any intense scenes on the first day because we were trying to get to gel as a unit. In scene three, we went right into it, and that was when I was in the garage with him doing all those scenes for a few days. I was in that garage for five or six days. [Father] put us in the costumes. You put me in that environment, trained me up, and parts his hair a certain way. He starts speaking in his gruff voice, and it's there. It's not complicated. When I'm on the ground, and somebody is towering over me [laughs].
Was there any scene that was more difficult to film than others? Were there any changes you coordinated with Corey about?
Some of the difficult things for me specifically: I had never acted in a whole scene in Vietnamese or predominately Vietnamese before, and I speak it well enough to be conversational but not well enough that I can easily paraphrase. Vietnamese is such a tonal language, and I had to memorize it by rote. They were not short scenes. There was one that was at least six to eight minutes long. We were also shooting on film. So we only did one-three takes per setup.
It was that game of "I cannot change his tone on an accent because if I do, it's going to ruin the whole shot." [laughs] That was a challenge; the other thing was that this is my largest role. I was in scenes every single day, and you shoot out of order. Sometimes I get lost in terms of specifically the scenes that were an eighth of a page where you see me walking in the hallway. That was a big lesson "I need to keep the script on me and bookmark everything, so I know where I'm at emotionally and in my art." That was a major challenge for me.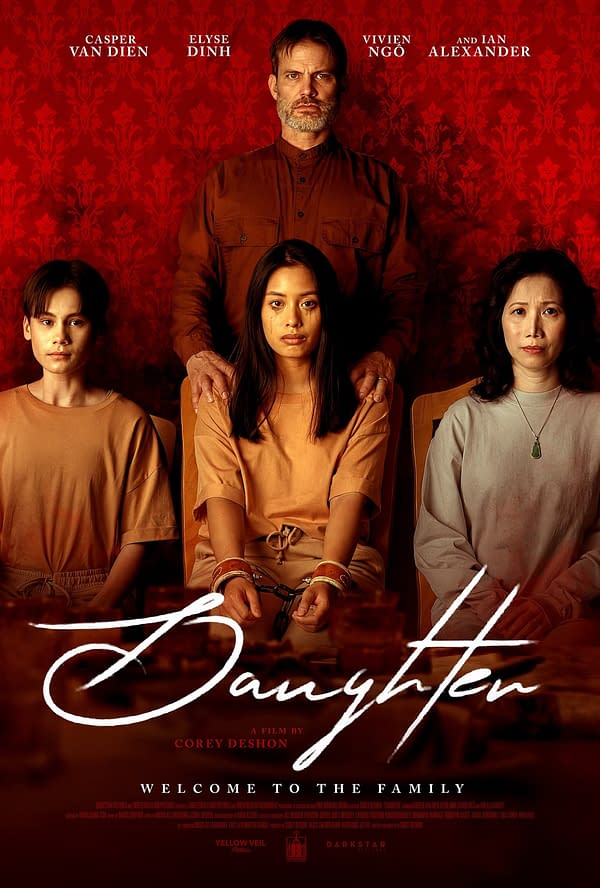 Coming from the TV world and this is a different monster altogether. Did any of your previous work help you prep for this?
With every project I do, everything that happens before prepares me in a way. Each new thing has its own challenges. Before working predominantly in TV, I had a theater background, and that's how I came up as an actor in drama school and was primed to do theater. They're all different beasts. I'm like, "acting is acting." Prep work is different. As I referenced before, I would say with the film that it would be the same if I were a lead of a TV show of getting lost in the mix because you shoot things out of order. I was prepared for the quick shoots because sometimes that's the nature of TV.
I've had experiences on shows where I get new pages while I'm in hair and makeup before I go on set. Everything prepped me, but one of the things that were my favorite and maybe made me feel like I was maybe back in my theater days was to be in this magical bubble for a few weeks where I'm immersed in a world [of 'Daughter] and then also being lead. You live in it. So that was something I hadn't done for a while. The last time I did something like that was years ago doing theater because you're immersed in a world, whereas TV has so many moving parts. It's like a circus and a machine. With such a small indie project like 'Daughter,' it was like this little family that "lives" together rather than coexists together in that house. We went home to sleep, but we were there together predominantly in that house for two weeks.
Daughter is available in theaters, digital, and on demand.
---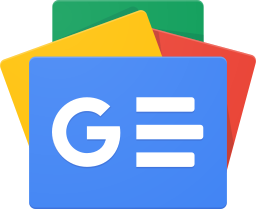 Stay up-to-date and support the site by following Bleeding Cool on Google News today!