There has been a lot of talk about the deleted scenes in Suicide Squad. A number of huge moments that Jared Leto shot as the Joker never made it into the movie. Leto himself commented, at the time, that he wasn't happy with the scenes being deleted. A fan took to Twitter and sent a message to director David Ayer with some screenshots from one of those deleted scenes wherein half of Joker's face is either covered in soot or burned.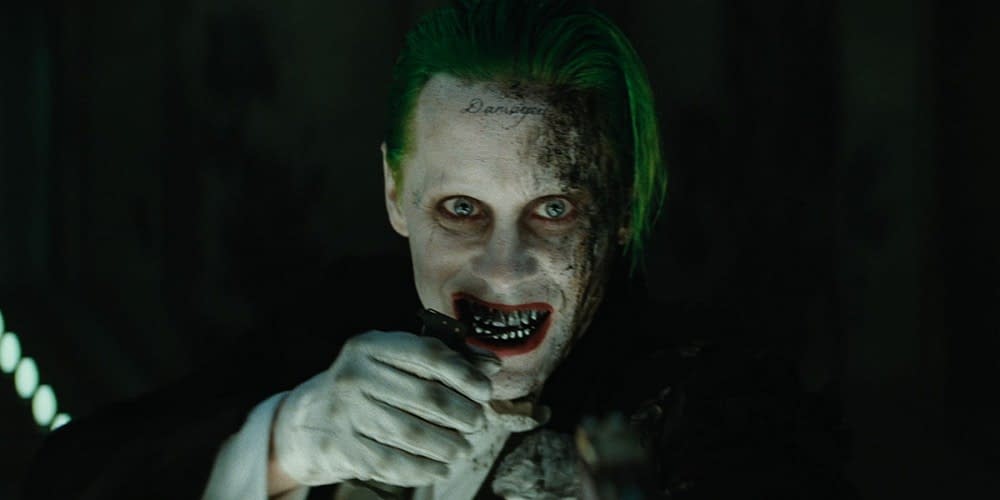 Ayer clarified when the scene took place and what it would have meant for the movie.
After Joker dropped HQ from the help and crashed, Enchantress made a deal with him. He was going to take Harley home and be "King of Gotham" Harley stood up to him and refused to betray her new friends. The Squad turned on him and he escaped. https://t.co/unnOewEYBQ

— David Ayer (@DavidAyerMovies) March 24, 2018
That makes a decent amount of sense. The character motivations are all over the place in Suicide Squad, and giving Harley a more definitive reason to stick around would have been good for her character. It also would have shown Harley standing up to the Joker, which is really important. The movie didn't do a very good job of showing just how abusive and toxic their relationship was. A fan agreed saying that Harley going from an abused pet to choosing her new friends would have made for a much better arc for her. Ayer seemed to agree.
That was her arc. Growth and empowerment. https://t.co/4EancRBaHl

— David Ayer (@DavidAyerMovies) March 24, 2018
All of that being said, it doesn't really matter now because those weren't the scenes that were put on screen. We can just hope that Ayer chooses to address the extremely problematic relationship Harley has with the Joker in the sequel. Much like Sharon Carter, she is much more interesting character when she's not attached to a man.
Enjoyed this article? Share it!