When it was announced that Cathy Yan was to direct the upcoming Margot Robbie/Harley Quinn film based on 'Birds of Prey', a lot of people probably asked "who is Cathy Yan?"
Well, aside from being the first Asian woman to direct a feature based on a comic book, and only the third woman to helm one solo… Yan is a Chinese American filmmaker who made an excellent feature length film, and let's be honest, that got her the job! To say she's a bit of an overachiever might be putting it lightly. She holds a BA from Princeton University, and did the dual MBA/MFA program at New York University. Prior to her film career she was a reporter for the Los Angeles times and the Wall Street Journal.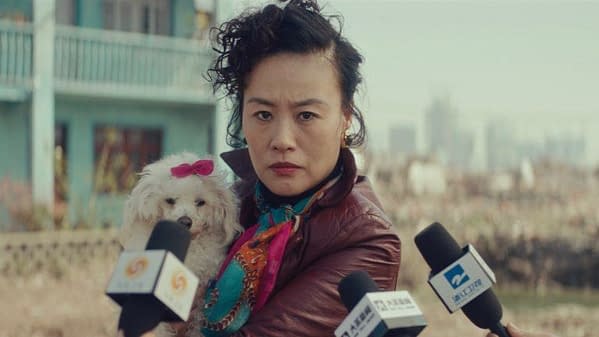 Dead Pigs is Yan's feature length directorial debut. It's inspired by a real life incident involving 16,000 dead pigs found floating in a river near Shanghai. Yan was so fascinated and inspired by the story, she wrote an entire film about it.
She describes her influences as masters of the ensemble: the Coen Brothers, Paul Thomas Anderson, and early Alejandro Gonzalez Inarritu (I'd imagine this bodes well for a Birds of Prey film). After having seen the film at CAAMFest in San Francisco, I can say that while their influence is apparent on her style, she brings a flair of her own. She wove the characters together in a wonderful way that also reminded me of some of Robert Altman's best work. There's comedy, drama, and of course, pigs.
The film also serves as a fascinating look at the influence of Western culture on China. The impact external influences have had on the evolution of Chinese culture are well represented. It's not a propaganda piece, but it certainly doesn't hold back on showing the growing pains. Somehow even with its honest portrayal, it was approved for distribution in China (which can be challenging depending on the content).
Dead Pigs premiered at Sundance, and stars Vivian Wu, Mason Lee (son of director Ang Lee), Meng Li, Haoyu Yang, Zazie Beetz (Deadpool 2), and David Rysdahl. If you can I highly recommend seeing Dead Pigs, Yan is certainly set to make a mark on cinema.
May is Asian Pacific American Heritage Month, and I had the chance to sit down with Cathy Yan during CAAMfest to chat.
Enjoyed this article? Share it!