Doctor Sleep will release on digital on January 21, and on 4k Blu-ray on February 4. That is not the big news however. The big news is that the release will include a new director's cut with 30 minutes of restored footage. This is great news for those of us who found brilliance in Mike Flannagan's film, even if it disappointed at the box office. This one will find second life after being viewed at home for sure. Other special features include the standard making of docs and such.You can preorder now.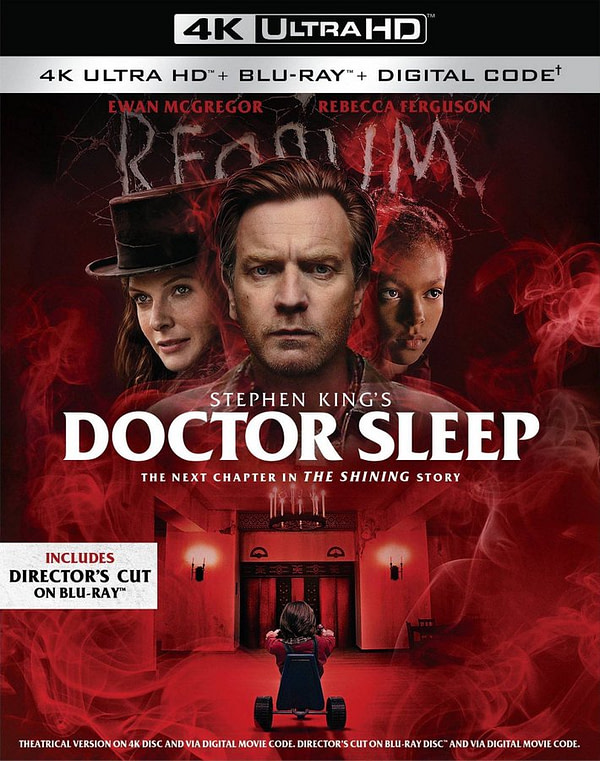 Still irrevocably scarred by the trauma he endured as a child at the Overlook, Dan Torrance (Ewan McGregor) has fought to find some semblance of peace. But that peace is shattered when he encounters Abra (Kyliegh Curran), a courageous teenager with her own powerful extrasensory gift, known as the "shine." Instinctively recognizing that Dan shares her power, Abra has sought him out, desperate for his help against the merciless Rose the Hat (Rebecca Ferguson) and her followers, The True Knot, who feed off the shine of innocents in their quest for immortality.
Forming an unlikely alliance, Dan and Abra engage in a brutal life-or-death battle with Rose. Abra's innocence and fearless embrace of her shine compel Dan to call upon his own powers as never before—at once facing his fears and reawakening the ghosts of the past.
Here is the list of special features on the Doctor Sleep release:
DIRECTOR'S CUT OF THE FILM – featuring nearly 30 minutes of new, alternate and extended scenes, selected by director Mike Flanagan, not seen in theaters.
DOLBY VISION/HDR PRESENTATION OF THE FILM
DOLBY ATRMOS AUDIO TRACK
Return to the Overlook
The Making of Doctor Sleep: A New Vision
From Shining to Sleep
Optional English SDH, Spanish, French, and Portuguese subtitles for the main feature