Emily Blunt and husband John Krasinski aren't done talking about their collaboration on A Quiet Place, the suspenseful surprise theatrical hit from earlier this year.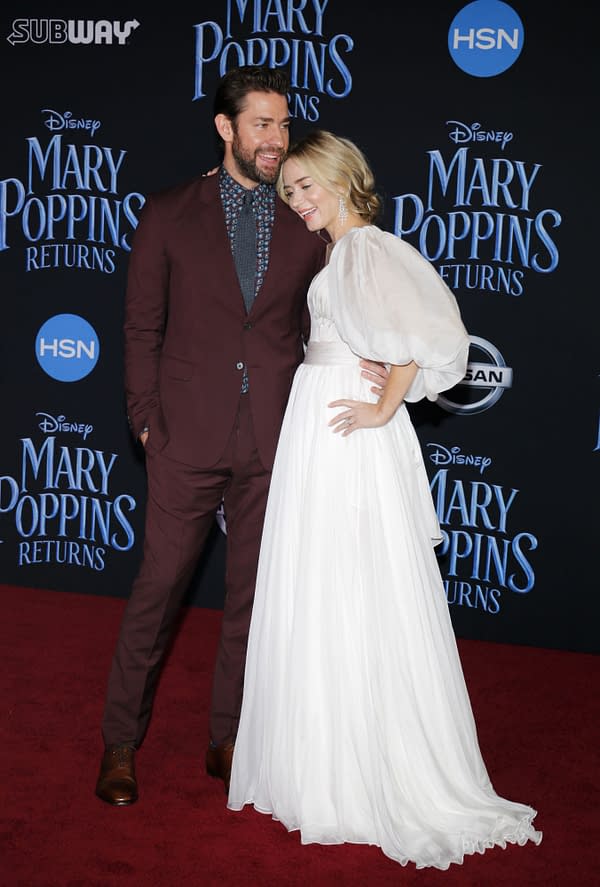 The pair danced around working together in front of the camera for sometime, a new interview with The Hollywood Reporter reveals. Krasinski admits he wrote the part of Evelyn Abbot for Blunt, but made the choice not to ask her about playing the character.
As Krasinski was pitching the film to Paramount, Blunt was gearing up to play a notable part for Disney, the magical musical nanny Mary Poppins. So, John decided to go ahead on the project, without asking his wife to be a part of it.
"I decided the safest thing to do was just have this experience on my own," Krasinski tells THR. "I didn't want this to be the one job that she was like, 'Listen, I don't know if I love this, but I love you, so I'll do it.' " Which seems totally legit in the circumstances- all couples have those moments, not just the actor-types.
Blunt apparently suggested someone else for the role, as she was carpet-bag-deep in prep for Mary Poppins Returns, but eventually came around to the idea of doing the part.
"I went sort of gray," she tells THR. "I couldn't imagine the thought of letting someone else play the part."
To which Krasinski adorably admits, "It was like she was proposing to me. It was one of the greatest moments in my career. I screamed out, 'Yes!' I'm surprised we didn't emergency land in San Antonio."
The couple continued, describing an normal night at home during the process:
"I'd come home and be like, 'I just danced with 30 lamplighters'. 'It was beautiful!'," Blunt says."
"And I'd be like, 'I just killed a child on page 10!'," Krasinski adds.
While we don't know which way A Quiet Place will land in the Oscars race, we're hoping it'll at least get some recognition.
Thanks to Blunt and Krasinski for sharing their talents [and relationship] with fans.
Enjoyed this article? Share it!