007 Bond Binge: You Only Live Twice aka Ninjas in Volcanoes
In the opening moments of You Only Live Twice, James Bond is brutally murdered. Or so it would seem! Having faked his death, he can go undercover in Japan and hunt down one of his greatest enemies ever, Ernst Stavro Blofeld, in his volcano lair. While the film is generally good, it also begins to bring in the campy humor that would eventually become synonymous with Bond as the franchise starts a long, slow decline. It also continues some of the series' unnecessary Orientalism, which began on Dr. No and even included Bond in yellowface for a portion of the movie.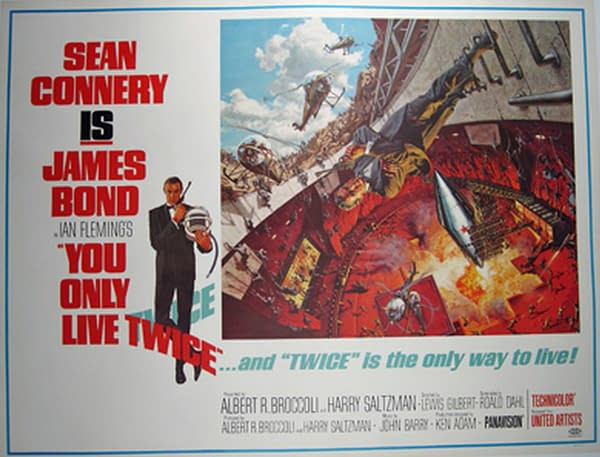 You Only Live Twice also finally broke Sean Connery, who refused to sign on to another Bond film after this one. Part of this was due to behind the scenes pressure: he was constantly harassed and even stalked while filming in Japan. But after making five movies in five years, he wanted to branch out to other opportunities.
There's a lot to like in You Only Live Twice. It has a unique charm because of its Japanese setting– the only Bond film to stay primarily in one country. And both the good and bad parts of the script can be traced, in part, to screenwriter Roald Dahl (yes, the children's' author) who adapted the screenplay on the request of his real-world friend Ian Fleming. The Nancy Sinatra theme song is also iconic, having been a double hit not only once in its own right but then also covered and sampled in multiple places. This includes the Robbie Williams 1999 hit "Millennium," where he's directly aping James Bond in the music video, tuxedo, and Aston Martin and all.
One of the more interesting parts of this movie is it one of the few movies where James Bond never drives, instead of letting Japanese agent Aki (Akiko Wakabayshi) chauffeur him around in an iconic Toyota 2000 GT convertible. Ironically, the 6' 2" Connery did not fit well in the stock model of the car, so they had to make it into a convertible, which Toyota did not currently offer on the car. But Aki and Bond's spy work is fun to watch as they investigate industrialist Mr. Osato and Osato Chemical Works, a location so iconic it would eventually be used in the first Austin Powers movie.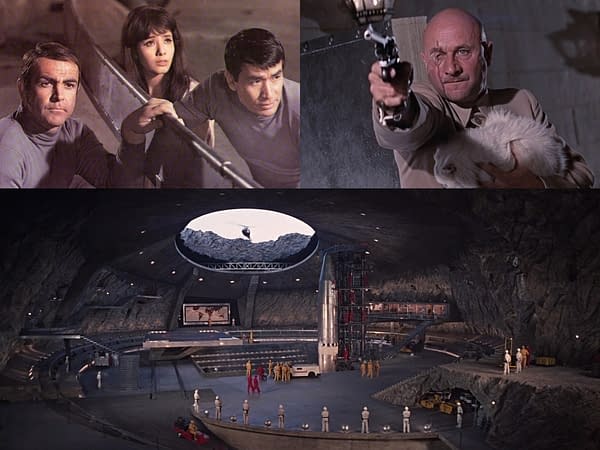 Also inspiring Austin Powers is the final setpiece of a gigantic volcano lair where Dr. Evil Ersnt Stavro Blofeld (Donald Pleasence) attempts to engineer a war between the Americans and Soviets, right down to pits of piranhas to throw enemies and failed lackeys into. This final climax as an army of ninjas descends on the lair is one of the best action scenes of the entire Bond franchise.
The problem is, it takes a long time to get there. And not all of the padding is good. While the aforementioned spycraft is fun, it takes a screeching turn when Aki is senselessly murdered, and James Bond goes into hiding by donning yellowface, a wig that looks like it could've been worn by Romulan extras in "Balance of Terror," and pretending that all suddenly makes Sean Connery "look Japanese." To complete the illusion, he is also married to Kissy Suzuki (Mie Hama), who then inexplicably spends most of the rest of the movie in a white bikini. Because Bond.
The film is best when it presents Japanese culture in a respectful, dignified way. It's at its worst when it presents it as simply foreign and othering, as well as playing into obvious tropes and male fantasies around geishas and submissive women. Trying to pass Sean Connery off as Japanese is just stupid, and it's unclear it ever fooled anyone.
There's also some ridiculous gadgetry as James Bond takes to the sky in "Little Nelly," a custom gyrocopter that is able to fight off several attack helicopters. While based on actual British autogyro designs, the scene strains credulity, as well as the ability of the film to use a green screen.
In an alternate universe, this could have been the last James Bond film as it ends the original Connery run. And if it had been that, it would have been a nice end of these classic spy films. While it embraced a "bigger is better" aesthetic rather than the more subtle feel of From Russia With Love, it remains classic and iconic and embracing the best and worst of what the early franchise had to offer in terms of racism and sexism.
But have no fear, James Bond will return in On Her Majesty's Secret Service, with a replacement Bond played by Aussie newcomer George Lazenby in his only outing as 007.
For previous 007 Bond binges, please see:
Thunderball
Goldfinger
From Russia With Love
Dr. No