Emily Blunt on Why She Returned for A Quiet Place II
It's pretty much commonplace to assume that any profitable film in Hollywood has the potential to be franchised. Marvel's caped superheroes hold several box office records to the occasional trend of annual horror sequels. There's no shortage of franchise-worthy content in the film industry. When the 2018 film A Quiet Place was released, the film earned mostly positive reviews and achieved a notable box office run, making a sequel of world-building an overly likely outcome. Sure enough, the film went on full force and is now currently gearing up to be released in theaters (one of the first big releases since COVID-19 closures), and one of the film's leads is opening up about why she chose to return for more of the silent horror world.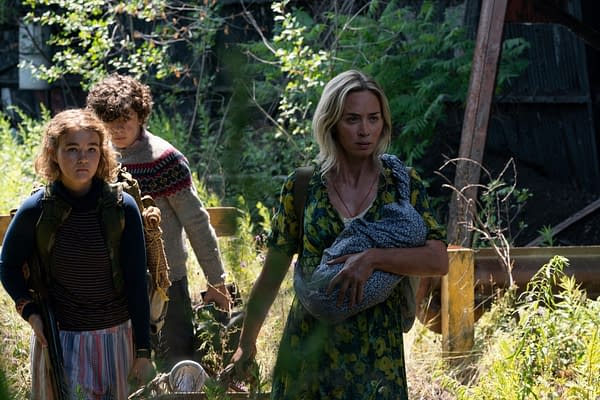 In a new interview with Daily Dead, Emily Blunt discussed the idea of coming back alongside writer and director John Krasinski. She admitted, "We were both dragging our heels about it, but the idea was so undeniable to me — and then I just started to operate in that this was just a continuation of this story with these characters that you have such an investment in. What materializes for them now, and the stakes have ratcheted up even more, they have to venture out — how is she gonna protect these three children and this newborn baby? You know when the stakes are that high, and the story is so exciting, I would have been an idiot to sort of say I don't want to do it."
The sequel is sure to face box office obstacles along with many current (and future) films as a result of the pandemic, but as of now, it has generally earned early praise and positive reception so far – so there's reason to believe that A Quiet Place II can continue to generate a desire for more.
A Quiet Place II hits theaters on May 28.