This article contains spoilers for the Arrow season finale – Lian Yu.
.
.
.
.
.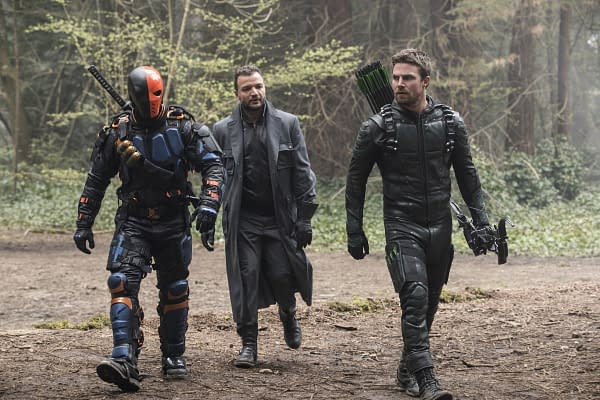 There is a LOT to take in with the season finale of Arrow. I'm not going to try and recap it as much as talk about what happened in the episode… because it was a bit crazy. First, I have to say that where it was good action seeing Oliver (Stephen Amell) taking on Kovar (Dolph Lundgren) in the flashbacks, they almost felt more like a distraction than helping the story. But it paid off with Oliver sitting on the boat and calling Moira (Susanna Thompson). It was a fitting send off for the flashback format.
That was the whole point of the episode. The series was built on a five-year plan and this is the end of that plan. The show will continue, but pieces of all the seasons are brought back to make this something special. We get Slade Wilson (Manu Bennett) back and he's the Slade from the island, before the mirakuru, not the big bad from season two. From when he and Oliver were brothers. But we also have Malcolm Merlyn (John Barrowman) the big bad from season one, and Talia (Lexa Doig) and Nyssa (Katrina Law) standing in for their fallen father, Ra's al Ghul (Matt Nable) the big bad for season three. Plus we got Digger Harkness (Nick Tarabay), Black Siren (Katie Cassidy) and all the regulars from this season plus Adrian Chase (Josh Segarra). The only thing they were missing were Ragman (Joe Dinicol) and Vigilante (who we still don't know who he is).
Everything was geared for Oliver to kill Chase. He kept pushing him to do it. But Oliver doesn't. And that's the key to the season. Prometheus was determined to show everyone the killer that Green Arrow was, but he's not that anymore. He's not the man that came back from the island five years before. He has grown over the years and with the help and influence of the people around him. The Vigilante / Hood was a killer and had a singular focus. But the Green Arrow is a hero and Prometheus couldn't change that.
This was also an episode about fathers and sons. Oliver asks for Slade's help by giving him information on Joe, Slade's son. Then asking for Slade's help to save William. Later Slade told Oliver that he needs to forgive himself for surviving. Forgive himself for his father's suicide. There was also a a moment for Merlyn to be a father to Thea… and to sacrifice for her.
The episode had a lot of twists and turns and involved Oliver having to trust Slade a lot. The chemistry between the two was right back where it was in the first season and it was great to hear him calling Oliver, Kid again.
But the final moment is the one that will have people talking. Chase had the whole island rigged to blow and when he kills himself, it goes off. We only know that Oliver and William are safe. Everyone else is a question mark. Did Merlyn and Digger die with the land mine? I think that one goes down as a yes. Digger is part of the Suicide Squad and like Deadshot (Michael Rowe), he had to die to live on in film land I guess. As for Merlyn… John Barrowman hit Instagram shortly after the finale and stated that even though it was done off-camera, Merlyn is dead and he won't be back next season. Barrowman has been an amazing member of the Arrowverse and he will be missed.
As for everyone else… we've been told that Katie Cassidy would be back next season, Rick Gonzalez and Juliana Harkavy have been promoted to series regulars. David Ramsey, Emily Bett Rickards, Paul Blackthorne, Willa Holland and Echo Kellum were all name dropped in the season 6 synopsis the CW put out the other day. But the fate of Nyssa, Talia, Evelyn (Madison McLaughlin), Slade, and William's mother is still up in the air.
The finale was big and wild and exactly what you'd want from a five-season build up. Oliver has grown a lot in the season and I think this season was a strong return to form. Looking forward to season six.
Enjoyed this article? Share it!