Will Ferrell & Rachael McAdams In Netflix Comedy Eurovision
Will Ferrell and Rachael McAdams are starring in a new comedy Eurovision Song Contest: The Story of Fire Saga for Netflix. The duo stars as an Icelandic duo trying to write and perform for their country in the worldwide singing contest phenomenon. The film also stars Dan Stevens, Demi Lovato, Graham Norton, and Ferrell's extremely attractive father, Pierce Brosnan. This was supposed to release last month to be timed with the actual Eurovision contest but was delayed due to the pandemic. You can check out the trailer, synopsis, and poster for Eurovision Song Contest: The Story of Fire Saga down below.
Eurovision Song Contest: The Story of Fire Saga Synopsis
"Two small-town singers chase their pop star dreams at a global music competition, where high stakes, scheming rivals and onstage mishaps test their bond. When aspiring musicians Lars (Will Ferrell) and Sigrit (Rachel McAdams) are given the opportunity of a lifetime to represent their country at the world's biggest song competition, they finally have a chance to prove that any dream worth having is a dream worth fighting for."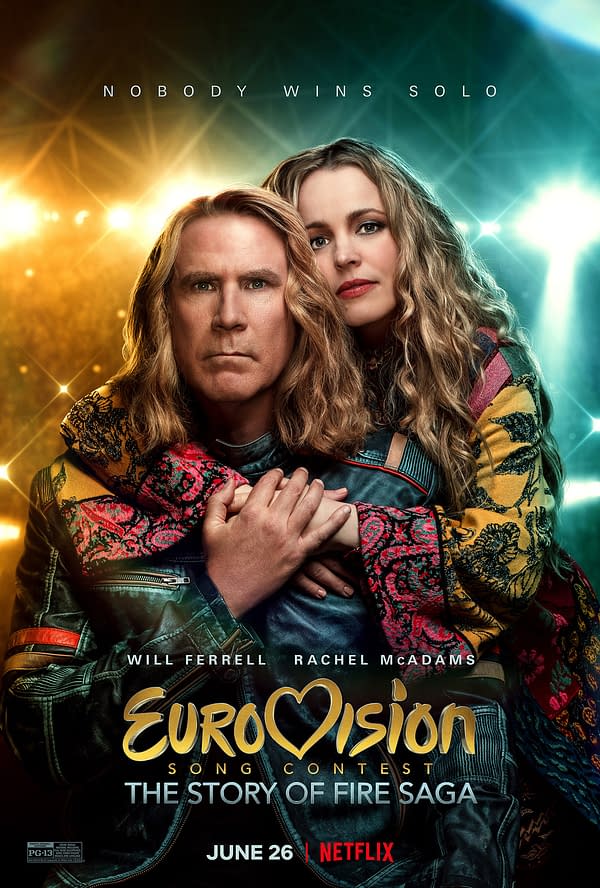 I must confess, I know nothing at all about Eurovision and all that it entails, but if it is anything at all like this trailer, I have been missing out. This looks like a standard comedy from Ferrell, in the same vein as Semi-Pro and Talladega Nights, where Ferrell and his co-star (McAdams) thrown themselves completely into the part and take it seriously. It looks funny, and hopefully, the best stuff isn't in the trailer. It hits Netflix on June 26th, and to help celebrate Netflix has even released a music video by the duo for the song "Volcano Man." Enjoy.