Evil Dead 2 is coming to 4K Ultra HD Blu-ray on December 11. Featuring a new 4K transfer of the film, including Dolby Vision HDR, the disc will also have a new documentary titled "Bloody and Groovy, Baby!", a new featurette paying tribute to the film with interviews and such from some of horrors biggest names. Check out the cover for the release, along with the full specs on the discs down below!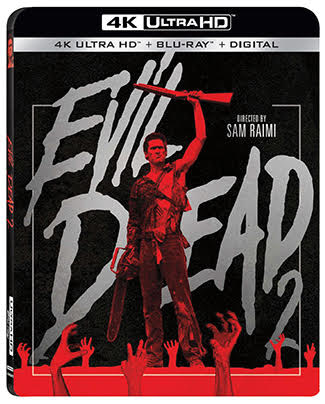 Ash returns in one of horror's greatest sequels when Evil Dead 2 arrives on 4K Ultra HD™ Combo Pack (plus Blu-ray™ and Digital) December 11 from Lionsgate. Written and directed by Sam Raimi (Spider-Man, Army of Darkness), and starring Bruce Campbell in the role that cemented his place in horror history, Ash must, once again, battle the deranged dead after returning to the same cabin from The Evil Dead and unleashing Hell on Earth.

Experience four times the resolution of Full HD with the 4K Ultra HD Combo Pack, which includes Dolby Vision™ HDR™, bringing the stunning cinematography of this supernatural horror film to life. When compared to a standard picture, Dolby Vision can deliver spectacular colors never before seen on a screen, highlights that are up to 40 times brighter, and blacks that are 10 times darker. Available for the very first time in this absolutely stunning format, the Evil Dead 2 4K Ultra HD Combo Pack will include a brand new, never-before-seen 52 minute featurette, "Bloody and Groovy, Baby!
4K ULTRA HD SPECIAL FEATURES
NEW "Bloody and Groovy, Baby!" – A Tribute to Sam Raimi's Evil Dead 2 Featurette
Audio Commentary with writer-director Sam Raimi, actor Bruce Campbell, co-writer Scott Spiegel, and special make-up effects artist Greg Nicotero
BLU-RAY SPECIAL FEATURES
Audio Commentary with writer-director Sam Raimi, actor Bruce Campbell, co-writer Scott Spiegel, and special make-up effects artist Greg Nicotero
"Swallowed Souls: The Making of Evil Dead 2" Featurette
"Cabin Fever – A 'Fly on the Wall' Look Behind-the-Scenes of Evil Dead 2" Featurette
"Road to Wadesboro: Revisiting the Shooting Location with Filmmaker Tony Elwood" Featurette
"Evil Dead 2: Behind-the-Screams" Featurette
"The Gore The Merrier" Featurette
Theatrical Trailer
Still Galleries
Type: Theatrical Release
Rating: R
Genre: Horror, Supernatural, Thriller
Closed Captioned: NA
Subtitles: English, Spanish, German, English SDH
Feature Running Time: 84 Minutes
4K Ultra HD™ Format: Dolby Vision, 2160p Ultra High Definition, 16×9 (1.85:1) Presentation
Blu-ray Format: 1080p High Definition, 16×9 (1.85:1) Presentation
4K Audio Status: English 5.1 DTS-HD, Spanish 2.0 DTS-HD, French 5.1 DTS-HD, German 2.0 Mono DTS-HD
Blu-ray Audio Status: English 5.1 DTS-HD